'Russians put me next to my husband's fresh grave and amused themselves by shooting over my head'
"First, they pulled the nail off my little finger. Then my middle finger. The second time was not as painful as the first time. The pain was so immense I didn't know what hurt more: when they were making a meat chop out of me with the rifle butt or when I stopped feeling my hands. They tortured me with an electric current. They called this 'electrophoresis' or 'a phone call to Zelenskyi'," says Oksana Minenko from Kherson. Her story is an account of the horrific crimes committed by the Russian occupiers in Ukraine. Oksana is 43 years old. For the past four years, she was happily married to 37-year-old Oleksiy Khvostyk, a lieutenant of the National Guard of Ukraine.
Translated by Tetiana Sykes
Read this article in Ukrainian
"Not only I but also our parents and our grown-up children from previous marriages, we were all happy," Oksana says.
On 18 February, one of the colleagues asked Oleksiy to swap shifts at the post in Mykilske, 20 kilometres (12 miles – translator's note) northeast of Kherson in the south of Ukraine. On 24 February, Oleksiy was planning to step down from the service for good. Instead, the first day of the Russian invasion became the last day of Oleksiy's life. And the beginning of long-lasting agony for Oksana.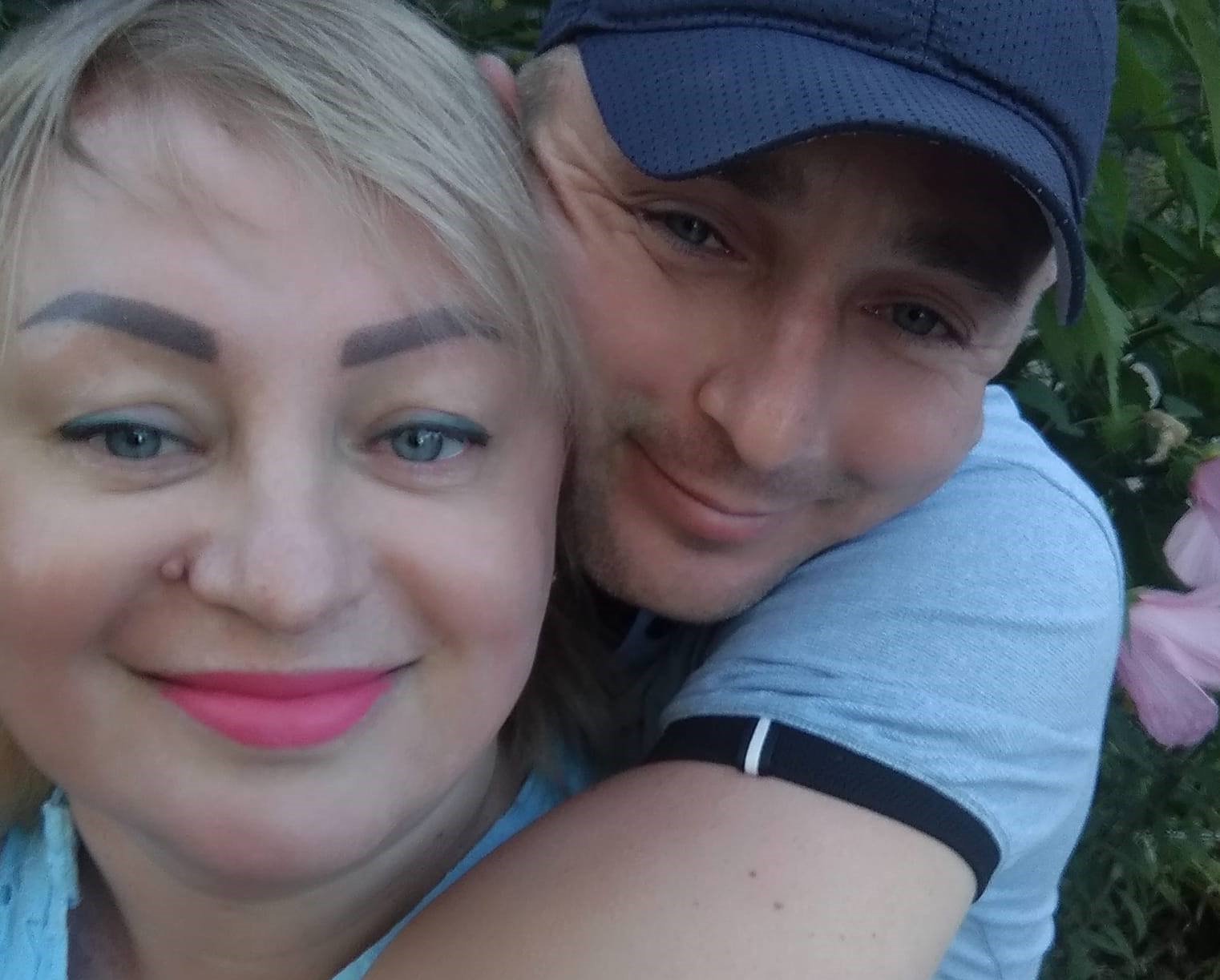 'I was looking for Liosha in all the ditches – I would have carried him home in my hands'
Russian troops approached Kherson at lightning speed from the direction of annexed Crimea. Around noon, Russian airborne units landed near the Antonivskyi bridge where Oleksiy and his comrades from the National Guard were stationed, and the fighting for the bridge broke out.
Why Kherson was captured so quickly and why a full-fledged ground defence, which played a key role in protecting many other cities, was not set up – the answer to these questions remains unclear. Kherson, however, took one of the heaviest blows of the war. Including Lieutenant Khvostyk and a handful of his servicemen.
That day, Oleksiy called Oksana twice. The first time he said that the war had started.
"What do you mean by 'war'?" the woman shuffles her hands and bursts into tears. "Yesterday there was no war, and today there is a war?"
"When I went outside, I saw lots of helicopters flying, so many that you literally couldn't see the sky. Around 50 perhaps. But I was calm at that moment because Oleksiy said that he and his boys were retreating towards Mykolayiv."
The second time Oksana got a call from her husband was at three o'clock in the afternoon. He no longer pretended that he was safe, he only mentioned that he and his deputy engaged in fighting to cover the retreat. He told his wife to find and hide his military uniform, awards and documents.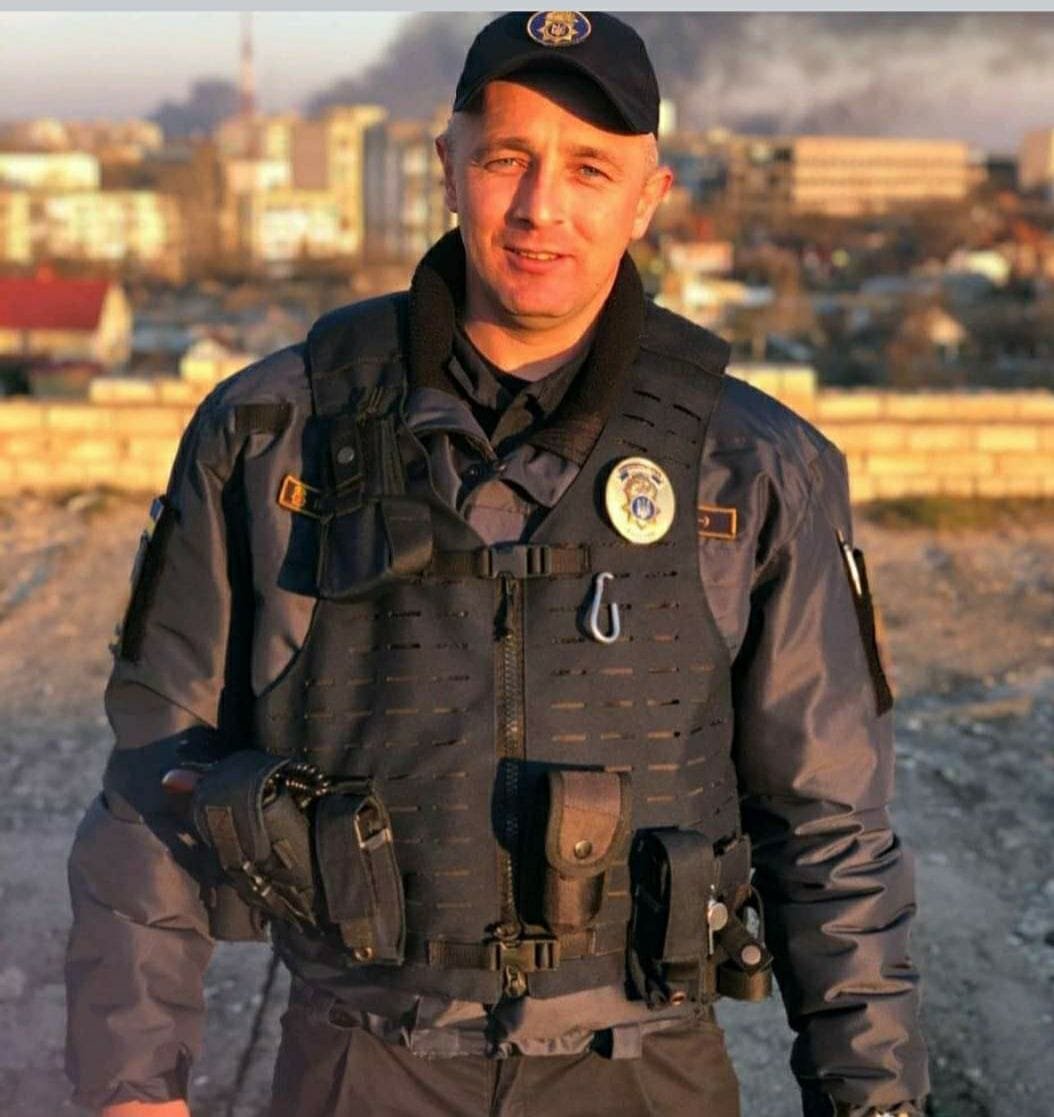 "This was our last conversation," Oksana says with tears in her eyes. "Between 3 and 5 p.m. he didn't pick up his phone. At 6 o'clock I started searching for him. I rang everyone: his friends, his comrades... No one could tell me anything specific. I heard different versions: some said he was there, the others said he was not."
Oksana decided to look for her husband by herself.
She reached the Antonivskyi bridge from the Shumen district where she lives on foot somewhere around two o'clock in the morning (she made a distance of around 15 km or 9 mi – translator's note).
"What I saw there was sheer horror… So many torn dead bodies, it's hard to describe. The Russians were dumping these bodies, including the bodies of their own soldiers, in the Dnipro river. Shells were flying nearby, and I was roaming around looking for Liosha (diminutive for Oleksiy – translator's note). Suddenly I got a call from the National Guard, they said that Liosha is alive and driving somewhere in a car."
Shells were flying nearby, and I was roaming around looking for Liosha
The woman rejoiced in both belief and disbelief. Oksana is seriously ill, so while on duty, her husband has often called to check if she was following the prescribed routine. Oksana was convinced that he could not call this time due to an emergency. Later that evening, she received new information: as feared Aliosha was not there and went missing.
"They also said there was another version that he got changed into civilian clothes and fled somewhere…" the woman pauses and explodes with indignation. "My Liosha?! Fighting at the front line since 2015, returning from captivity, going through nine rotations… His whole back was scarred, he's got shrapnel in his hand. How dare you say this about my husband: that he changed his clothes and left? This could never have happened."
Oksana decided that keeping her husband's good name is now a matter of honour. The following day, she went again to look for Liosha on the bridge.
"Was I afraid to go there? I didn't think about the fear at that time. I had to find my husband. Get dressed, set off and go ahead!"

"Our soldiers did not let me go under the bridge this time. It was hell out there. Many dead, cars pierced with bullets... I looked for my man under every bush, in every ditch – perhaps he was lying somewhere injured. I would have carried him home in my hands. I would have healed him. My Aliosha would make it through, I know he would…"
The Ukrainian artillerymen said that they were retreating and that they had taken away all the corpses.
Oksana had to go to the morgue for identification.
My handsome Aliosha was stitched up from what was left of him and kept in a sack
"There were 23 people who died of Covid in the morgue (a new wave of coronavirus broke out in Kherson during the Russian offensive), 138 soldiers of the Armed Forces, my Liosha and another boy who was killed in the shelling."
"My handsome Aliosha was always dressed impeccably. I bought him the best uniform, from Kharkiv, he wore perfume. And here... Here he lies sewn up from what was left and brought of him. They put him in a bag in the refrigerator."
"I wanted to bury Aliosha on 27 February. Boys from Buzkovyi park (Lilac park – a communal park in Kherson where heavy fighting took place when Russian forces were capturing the city – translator's note) were still in the morgue. The Russians suggested burying everyone in a mass grave. I refused because I had a spot for Aliosha on the Alley of Glory. They did not allow me to bury him at the Alley. Aliosha has been rotting in a morgue bag for eight days."
"The solution arrived unexpectedly: a stranger called me saying that we could bury my husband, but we need to make it in one hour. Otherwise, we'll have to deal with 'negative consequences'."
The woman did not have time to think about the negative consequences.
"We buried Aliosha, I felt relieved that his soul was finally at rest. Chaplain Seraphim said not to cry because Liosha was already at ease, and as for us, hard times were coming so the living would envy the dead."
At the cemetery, Oksana was watched by three Russian soldiers wearing balaclavas. However, something has protected Oksana at that time.
'If you don't want to work for us, then you don't need your hands'
Oksana could not see an end to that very hard day. When she got home after the funeral, she found Lavrentiy, her husband's favourite Maine Coon cat lying in the corridor – he got a stroke. Oksana grabbed the cat and rushed to the vet; they managed to rescue the cat somehow.
As soon as she was ready to exhale, three men wearing balaclavas came to Oksana's house. They grabbed her and brought her to the cemetery. Apparently, they warned her about the negative consequences, and she didn't make it in an hour. They put Oksana near her husband's fresh grave and started shooting.
"I closed my eyes, I couldn't believe it was real. Bullets were hitting the funeral wreaths, the ground and the cross; they were flying over my head. I was begging for one thing only: 'Liosha, please take me away with you! I don't want to be here! Let it happen quickly.'"
After the Russians have had their "fun", they decided that the woman was frightened enough and let her go. Oksana barely made it home.
On 7 March 7, their cat Lavrentiy died.
On 9 March, Oksana endured another loss – their father passed away after he suffered a heart attack in the first days of the full-scale invasion.
Those were the blackest days in Oksana's life. But the nights were not easier either.
On the night of 13 March, the men in balaclavas returned. Oksana was not entirely sure if those were the same men from the graveyard. "Where's your husband?" they asked sternly. The papers from the hospital did not convince them.
"They thought that Liosha was alive and I was hiding him. They started beating me. They put a bag over my head, tied my hands with tape and took me away. I have a tattoo on my back – they stripped me and threw me into the basement half-naked."
"I was so stressed that I couldn't feel anything. This absurdity went on. They started interrogating some other guys that were in the basement with me: 'Is Kherson Russia?' 'No, Kherson is Ukraine.' 'Get on your knees.' 'No!' They were shooting them in their kneecaps. I started to realise that I won't be able to cope with this."
"They put a bag over my head again. I can't describe my state – you can't die, you can't faint, so you just scream. Why didn't I pass out, why didn't my heart stop – I'm ill, I should have... I had no choice but to bear the suffering."
And the living will envy the dead…
"First, they pulled the nail off my little finger. Then my middle finger. The second time was not as painful as the first time. The pain was so immense I didn't know what hurt more: when they were making a meat chop out of me with the rifle butt or when I stopped feeling my hands."
"They tortured me with an electric current. They called this 'electrophoresis' or 'a phone call to Zelenskyi'."
"Then they allowed me to put some clothes on, brought me back to my house and ditched me near the entrance. They were waiting to see if any of the neighbours come out to help. But nobody came."
"A few days later, after noticing that I did not go outside for a long time, a neighbour brought me a bowl of borscht."
"On March 23, they came again. I wasn't able to stand up yet, I couldn't walk. Their questions were the same: 'Where is your husband?' The beating went on and on. Our puppy Tymofiy has rushed to defend me but he also got walloped with the butt of the gun."
"They poured boiling water over my hands and chest: 'If you don't want to work for us, then you don't need your hands.'"
They left the bleeding woman on the floor and promised to come back again. "I got ready to die, but the death didn't come."
On 30 March, Oksana received her husband's death certificate. She breathed a sigh of relief – perhaps men in balaclavas will stop bothering her now. But they returned in April, beat her again and told her they were doing a work of honour because "You are a Nazi wife."
"Why didn't I leave Kherson? I was afraid to leave because the Russian occupiers had my parents' details."
"While they were beating me, they did not touch my parents. If I had disappeared, nobody would know if something happens to my old folks," Oksana explains.
The woman spent almost the entire occupation under house arrest. She could barely walk and stayed in bed for months. In the summer, Oksana started having problems with her eyes. She had to go through a complicated operation to fix the eyesight because of the broken muscle injury she got from the beating.
Oksana did not believe it immediately when she heard about the liberation of Kherson. She was happy but did not dare to approach Ukrainian soldiers on the streets for several days. She even asked them to show their IDd to prove that they are Ukrainians.
The first thing she did after the liberation was buying a Ukrainian flag and going to the cemetery to visit her husband's grave.
Lieutenant Oleksiy Khvostyk was posthumously awarded the III degree medal "For courage".
Their dog Tymofiy continues to courageously protect Oksana. During our conversation he couldn't stop barking and would only settle in Oksana's arms.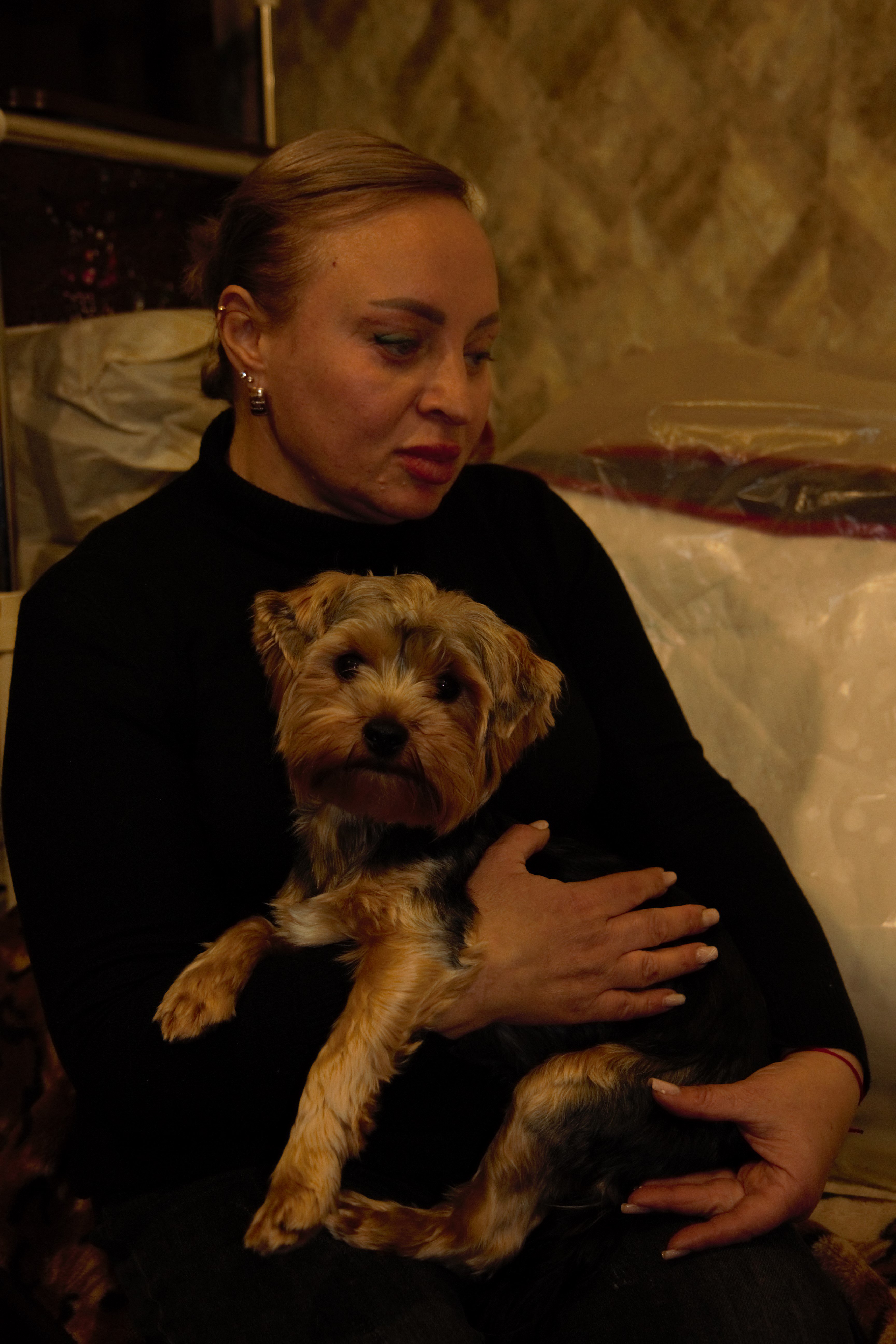 Oksana has small scars above the eyelids. She wears slightly heavier for this time of the day makeup and a manicure. All the nails have now grown back.
Every time I hear about the new shelling of Kherson, I reach out to Oksana to check on her. Oksana is volunteering, she collects donations to help the artillerymen out of gratitude for picking up Oleksiy's body, taking it to the morgue and preserving her husband's dignity.
"If everyone leaves, who else would be holding the city with the military? We all stick together and hang in there," says the fearless woman.