Light and darkness. How illumination changed during the war in free Ukraine and in the occupied territories
There is more and more light in Ukraine. This is evidenced by the results of a study conducted by TEXTY.org.ua based on satellite images of illumination in Ukraine in the evening and at night.
In the pictures one can see how the country is covered with more and more small and large spots of light every year. And it is not only about improving street lighting in most settlements, but also about reviving the overall economic activity in the country.
Illuminated streets of towns and villages, as well as industrial and agricultural facilities are the light sources. A new greenhouse or thermal power plant contributes to the overall illumination of the country. And the possibility for a village or a city to install new street lighting or increase their number means that local budgets have increased funds that can be used for such purposes.
Light after the Maidan
This is a clear indication in favor of one of the most successful Ukrainian reforms, decentralization. It will be recalled that the reform lets local councils receive more money and powers.
Looking at the map of Ukraine, one cannot help but notice how much the southern, first of all, coastal districts of Odesa, Kherson, and Zaporizhia oblasts were flooded with light. Not surprisingly, after the occupation of the tourist destination Crimea, Ukrainian tourists went to these parts instead. Obviously, tourism is also "responsible" for the appearance of light spots in the Carpathians.
One of the authors of TEXTY.org.ua was faced with the fact that his local community on the outskirts of Kyiv in 2018 could not quickly install city lighting due to lack of needed poles. In the companies that produce them, orders were fully booked for many months ahead. After the Maidan, Ukraine became brighter, because it was the Revolution of Dignity that started decentralization.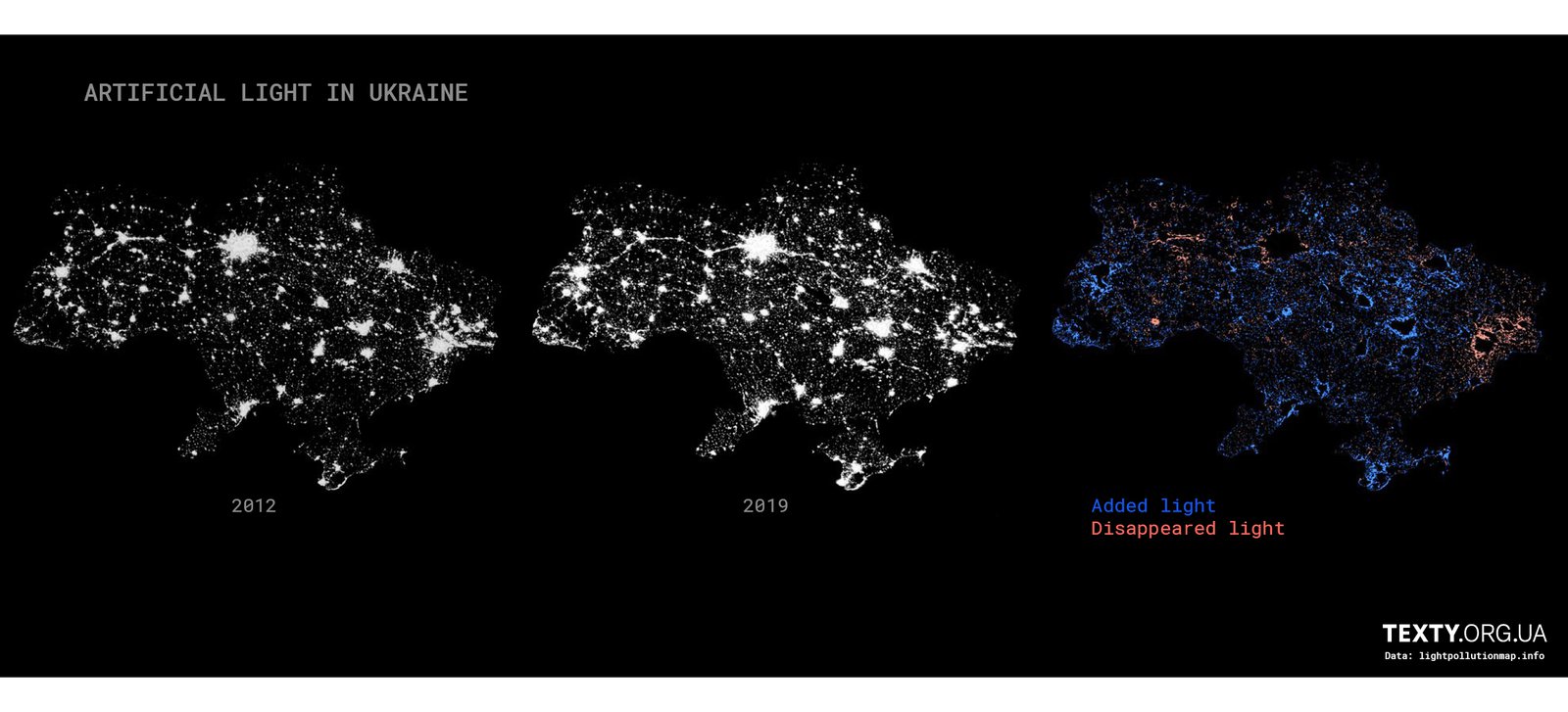 TEXTY.org.ua asked the local authorities of several randomly selected settlements which recently "lit up" brighter to understand what exactly helped to light another "star" on the Ukrainian map.
Oleksandr Babych, Mayor of Hola Prystan, Kherson Region: "Over the past 5 years, we have illuminated 90% of the city's streets"
"Previously, we had only two streets lit, the main street and one more. Now we spend about 500 thousand hryvnias annually on re-equipment. After the surrounding settlements joined us as a result of the administrative reform, we started to cover them all as well. We have already illuminated one and are preparing project documentation for others.
We install only LED lights. We are trying to involve the public in this. Where public committees operate on the spot and buy lighting accessories at their own expense, we try to react faster. Installing lights is not a problem, the problem is electrifying them".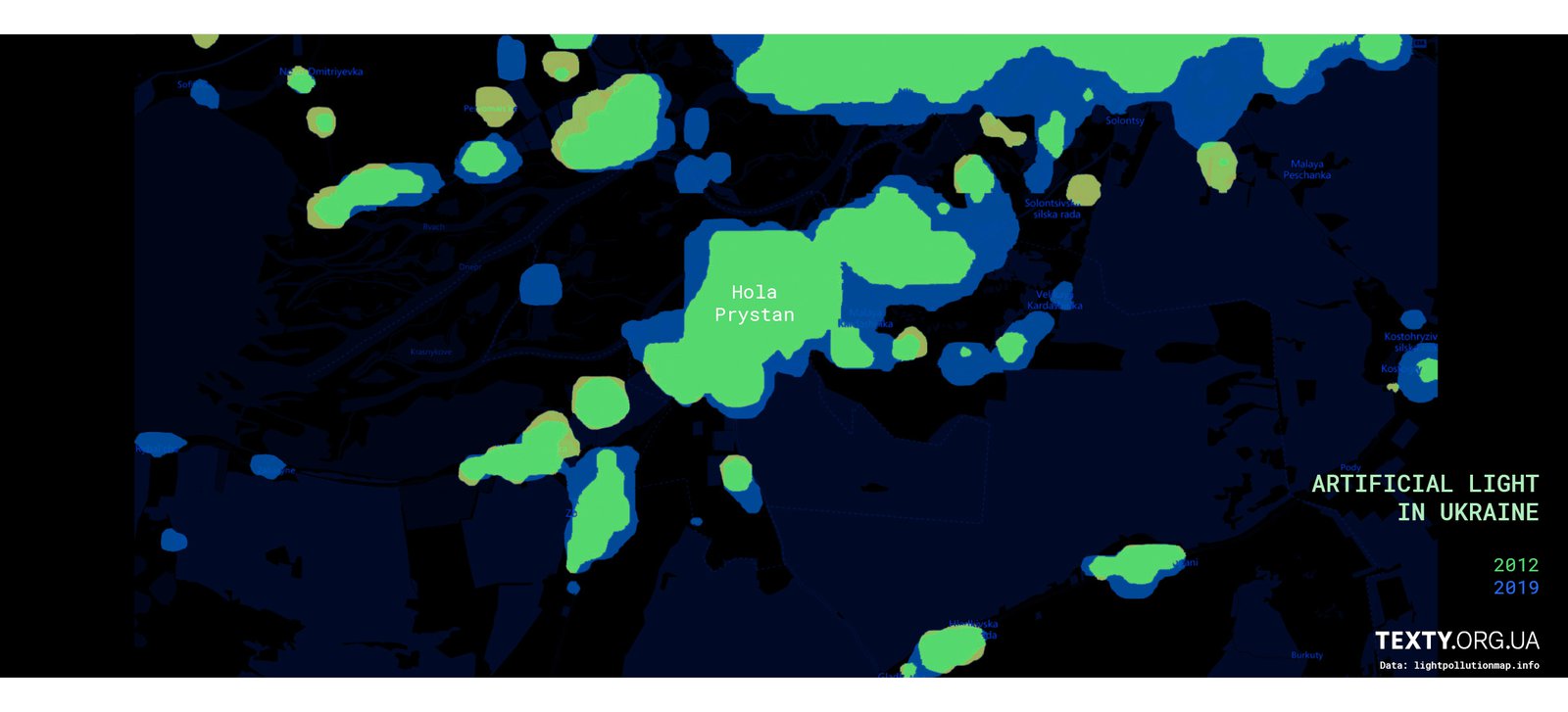 Oleksandr Shcherbakov, Deputy Mayor of Melitopol, Zaporizhia region: "We are mainly engaged in the reconstruction and replacement of lighting facilities"
"In some areas of the city, we have installed new supports, but not more than 10% of the total number of lamp posts. We are mainly engaged in reconstruction, installing LED lamps. On some old supports there were no lamps at all or they were of outdated design, made with mercury, sodium, etc.
Thanks to the replacement of lighting facilities, we plan to save about two and a half million hryvnias a year. Now 86 or 87% of light points in Melitopol are contemporary. We started this work at the expense of the local budget, but since 2019 we have received a grant from the Northern Environmental Finance Corporation (NEFCO). Most of the work was completed in 2020. LED lamps were installed in almost half of these points. A total of € 250,000 in grant funding plus a € 14.9 million soft loan was spent".
Volodymyr Petruk, energy engineer in Talne, Cherkasy region: "Streets have become noticeably lighter with LED lamps"
We now have 1,350 light points in the city, of which about 30% have been replaced by modern LEDs in four years. The rest are still old, made with sodium, mercury. When LED lamps were installed, streets became noticeably lighter, because, for example, in sodium lamps, the glass dimmed with time and transmitted only 40 or 50% of the light.
We have also increased the intensity of lighting. Тow there are lamps are on each support, and before there was one on every second pole.
Now we plan to replace all sodium and mercury lamps. LED lamps began to be purchased because of their lower energy consumption, in order to save electricity, which is constantly becoming more expensive and costs the city hundreds of thousands hryvnias.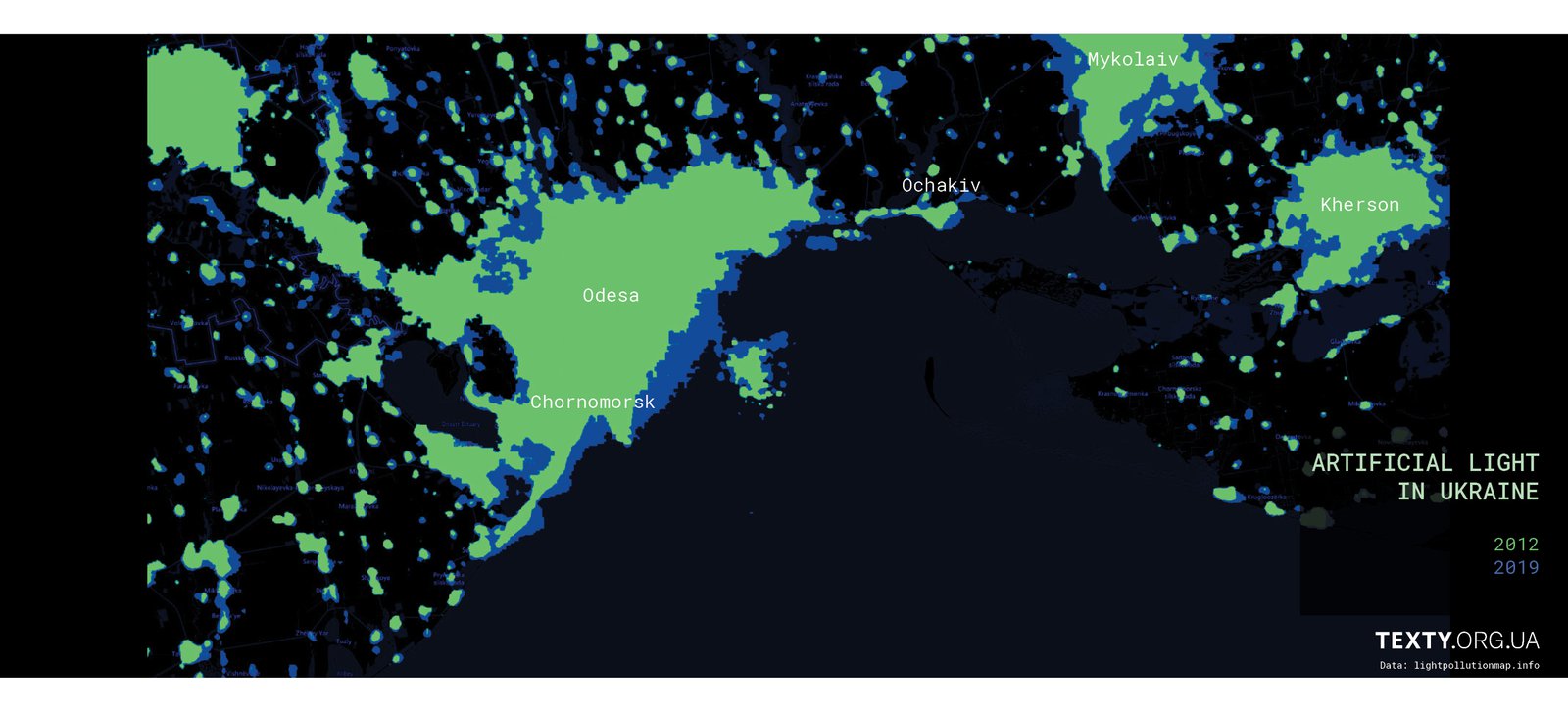 The darkness of occupation
Meanwhile, in the occupied territories of Donetsk and Luhansk regions it is getting darker every year. There are areas where these processes are accelerating, and one can speak about a real "darkening" of the once illuminated areas.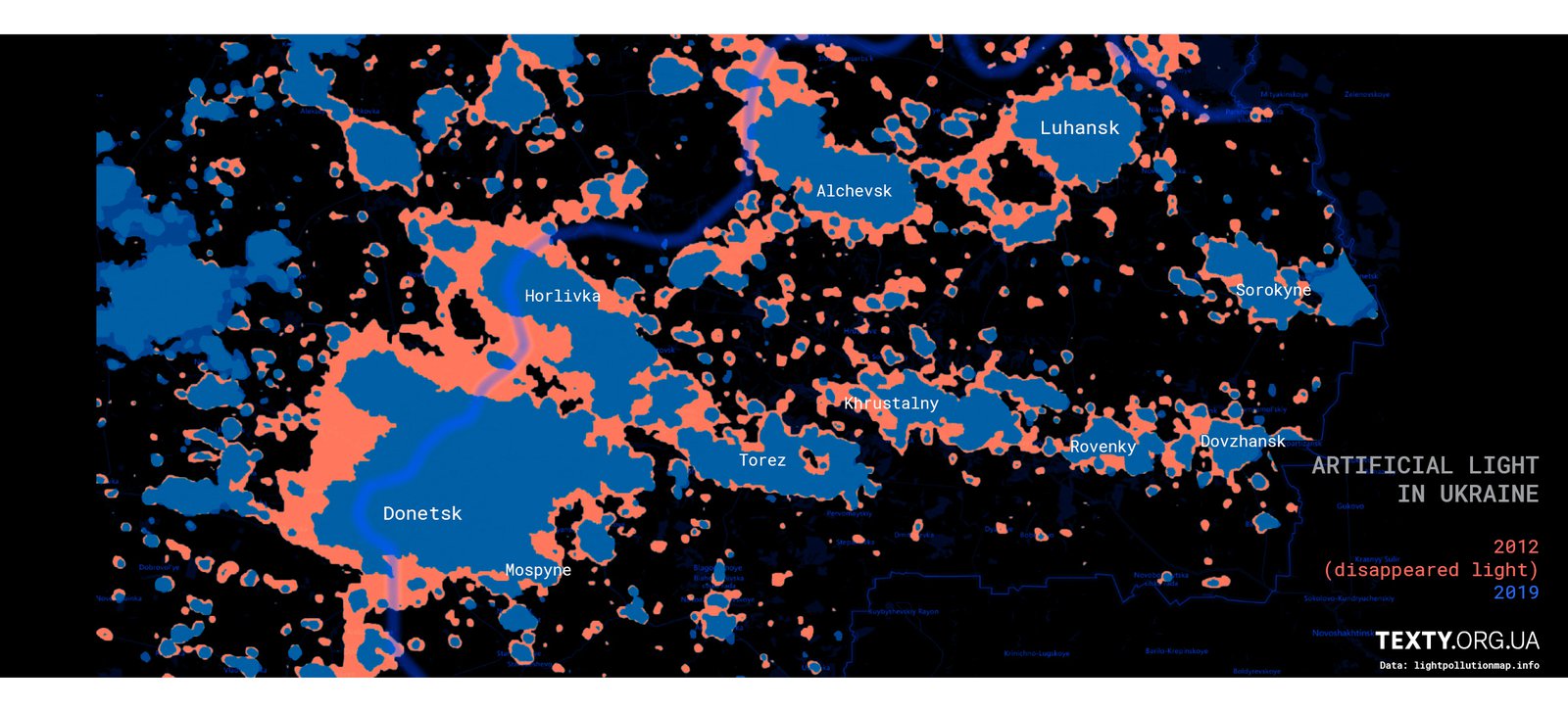 First of all, this is the case of the area near the Luhansk airport where in 2014 fierce fighting occurred. The infrastructure has been destroyed, and the puppet formation of the so-called Luhansk People's Republic has no ability or desire to restore it.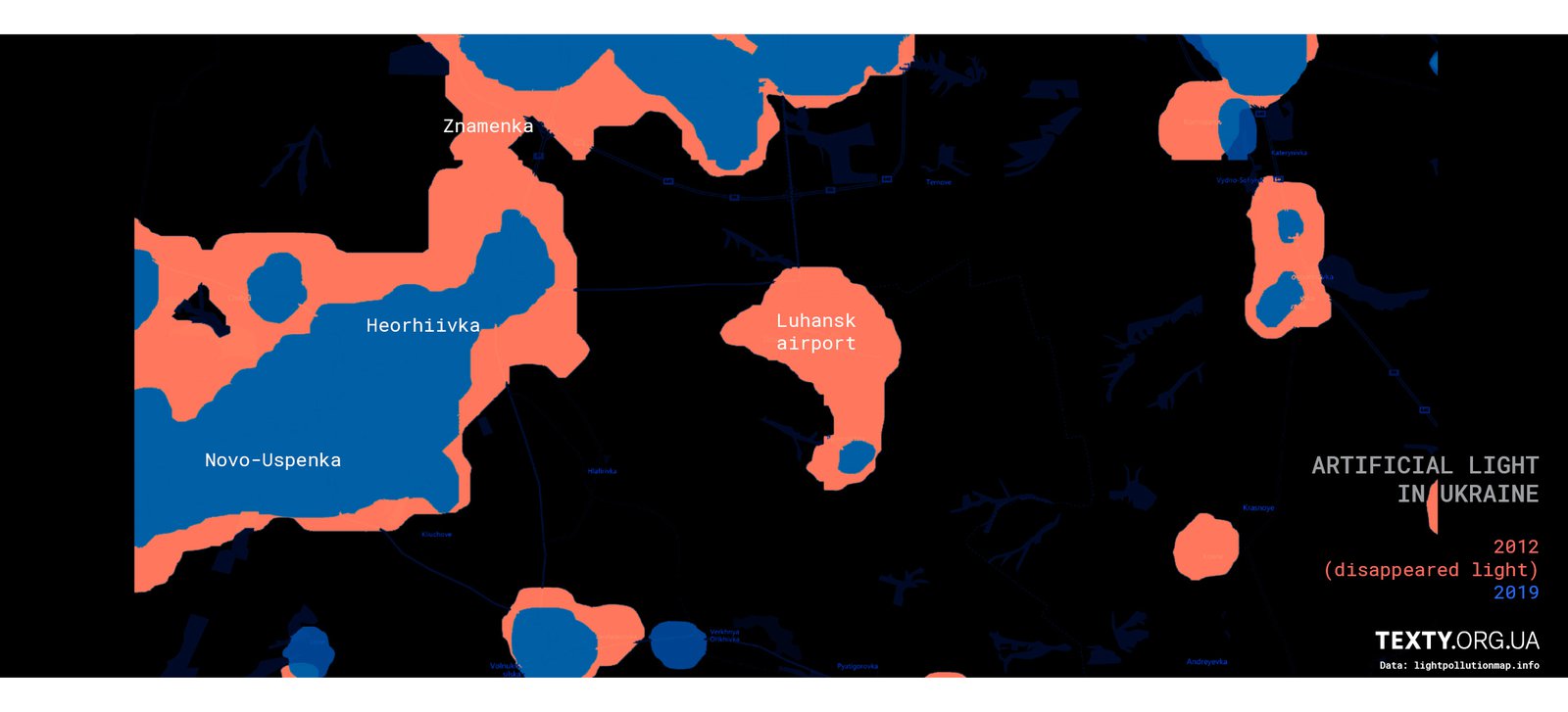 But it turns out that small settlements are drowning in darkness, too. Most of them are located near the Russian border, stretched along it in the Donetsk and Luhansk regions. These are Novokaterynivka, Osykove, Kolosky, Stepano-Krynka, Stepanivka, Dmytriyevka, Dyakove, Nyzhniy Nagolchyk, Khmelnytsky, Karpove-Kripenske and many others.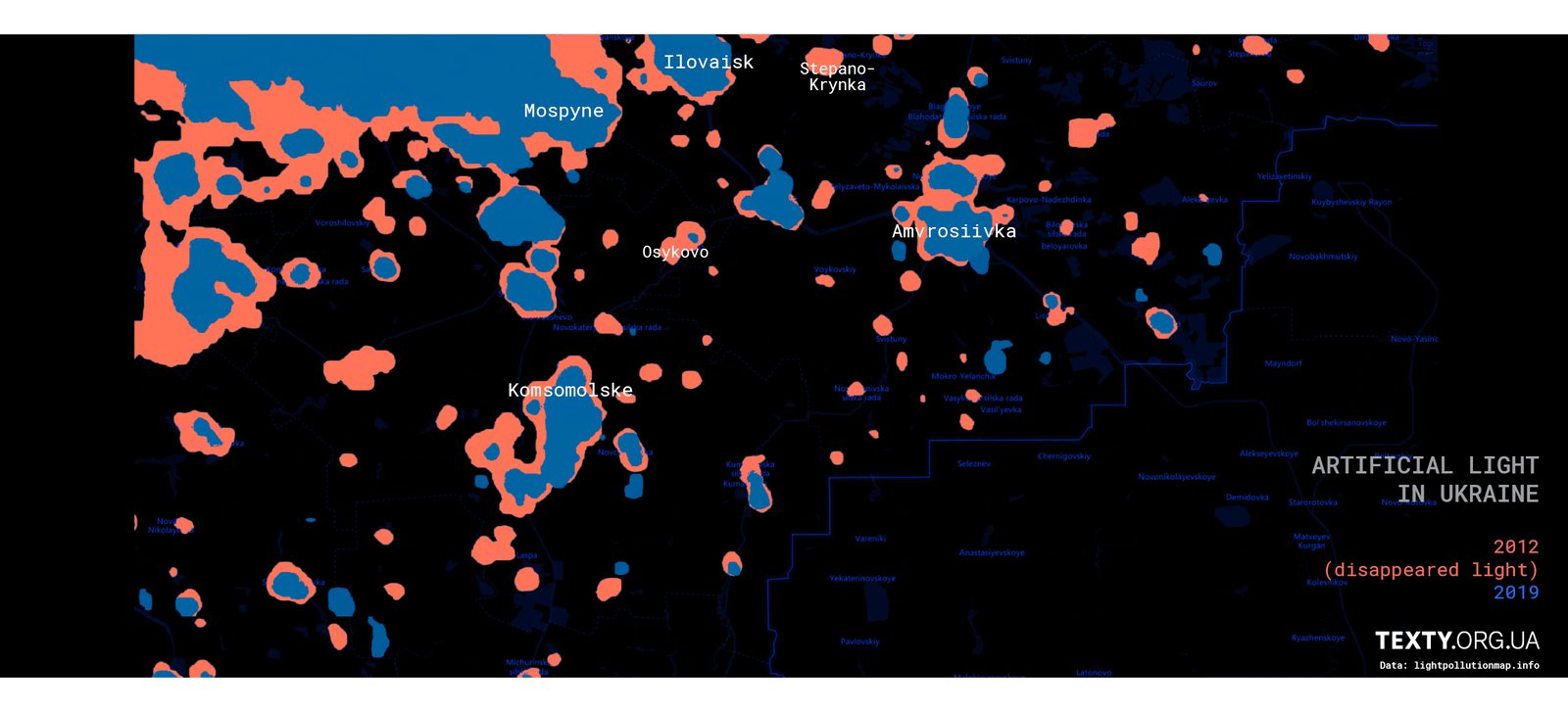 Some of these towns and villages were also affected by the events in Ilovaisk. There were also battles here. According to eyewitnesses, these settlements were often places of temporary refuge for the Ukrainian military, who, being cut off from the main forces, made their way to their own side. And it is these small, mostly agricultural villages and towns that are now suffering from economic troubles. At least that's what current and former locals say. We guaranteed our interlocutors anonymity, because they or their relatives who are still living under occupation can pay for their statements.
"Fields are overgrown with weeds, for tenants and owners have left"
"The militants started taking grain from people, everything they grew," says a former local resident Olena (the name has been changed, the village where she lives and which she asked not to be named is located in the Donetsk region near the Russian border). "The first ones whom the militants started to "shake" were large tenants, and they just ran away. Then came the turn of the small ones.
I know this story, when people harvested grain, brought it to the threshing facility, militants came there and took everything away. And so it still happens: people grow food, militants take it all away. And not just grain. They raised a pig, and it was also taken away. This all has led to another wave of resettlement.
The fields are deserted and overgrown with weeds. Some left for territory controlled by the government, some remained under occupation, but moved to larger cities. It's somehow easier to survive there. I know small villages where 30 to 40 families lived before the war, and now there is only one granny left or else the village is completely empty. What kind of illumination can we talk about here?"
"Life stops after sunset"
Pavlo (name changed) has a grandmother's sister who still lives in Osykovo. According to him, life in the village, where more than a thousand people lived before the war, stops at sunset. There are almost no young people left. Only the main streets are illuminated. Others have no wires on the poles. People live by raising cattle and vegetables. The store is still open. Those who could not or did not want to leave for the free part of Ukraine, went either to Russia or to Donetsk, where there is work and free housing (that is, the one left by people who moved away and so the housing can be occupied).
"What should we illuminate?"
The village of Stepano-Krynka between Ilovaisk and Amvrosiivka once a year appears in the reports of the "DPR" militant group. The so-called "people's militia" brings toys to children in the local school and kindergarten. But the school, a kindergarten, a pharmacy, several shops, a repair shop and a market are almost the only sources of income for the local population. Some people provide hairdressing and manicure services at home.
Olexander (name changed) says some in his village have managed to exchange their private homes for small apartments in Khartsyzk, Makiyivka and even Donetsk to work in the mines.
When asked about the illumination, Olexander laughs, saying: "What is there to illuminate? The lights are on in some places, and that's enough. Others have lights in their own backyards. And when it gets dark, there is nothing to do in the street".
The "specialization" of most of the mentioned "darkened" settlements is agriculture. There were also illegal mines near such settlements in the Luhansk region, which also apparently stopped functioning.
Methodology
Data was taken from https://www.lightpollutionmap.info/. This is information about the level of light pollution in the world. Only artificial light is displayed on the map. Data is collected using the Visible Infrared Imaging Suite radiometer, a sensor that detects radiation sources and is extremely sensitive even in low light conditions. It was developed and manufactured by Raytheon and is one of five instruments aboard the Suomi National Polar-Orbital Partnership (NPP) satellite platform, which was launched on October 28, 2011. The article compares the accumulated data for 2012 and 2019.