Kyiv metro at night. The more active gets air defence, the more people gather under the ground
First pet owners with their beloved animals and families with babies arrive. When explosions become so loud that the windows shake, the subway gets filled with families with older children. They spend the night underground and go to school in the morning – the Ministry of Education does not reprimand this.

Translated by Tetiana Sykes

Читати українською
Ira is my new friend: we go to the bomb shelter together during air raid alerts at night. She and I met in the shelter back in mid-May when Russia's shelling of Ukraine's capital intensified. It turned out that we lived in the same apartment block. And we seem to be the only ones from our block of flats who do not ignore the air raid announcements and proceed to shelter each time the air raid alert goes off.
My husband went on a business trip at the beginning of May, and I had to shelter with our child alone. Walking to the bomb shelter usually takes 5-7 minutes. Yet, at night it becomes another-level quest because the law-abiding citizens all tend to observe the curfew, which starts at midnight and runs until 5 am in Kyiv. Still, there are plenty of drunken misfits on the streets. Even without our night trips to a shelter, I regularly hear their loud screams and obscene shouts at night through the open windows in our apartment.
At the same time, sheltering at home is not an option: my child gets terrified when she hears loud explosions.
When the air raid alarm goes off, we pick up our floor mats, blankets and water and go downstairs. The backpack with essentials stays ready and gets packed in the evening.
"Mummy, look, a hedgehog!"
In a week and a half that we have been walking to the metro at night on our own, we were lucky enough to meet only a hedgehog (and Ira).
"I wonder if this is the same hedgehog we saw last year?"
"I don't think so."
"How do you know?"
Somewhere on the capital's northern outskirts, the air defence gets to work...
"Hedgehog, will you come with us to the subway?.." "And what if a piece of missile debris falls on his house too?" my daughter continues while I pull her by the hand as we walk to the shelter.
The shelters are usually mostly almost empty
At the beginning of May, around 40 people regularly sheltered inside the metro station nearby. Because of them, I didn't feel like the last paranoid person in the neighbourhood.
A few families with babies and strollers, some elderly couples, lots of men and mostly young people. Someone throws a mattress on the floor and tries to sleep. Others sit on the benches, folding chairs, floor mats and blankets. Most of these people have one thing in common: they are constantly scrolling through news feeds. I'm no exception. Although I bring a book and occasionally try to read it, my hand still reaches for the phone to see what is currently flying over Kyiv and where about. Yes, we're talking about the same news channels with undisclosed information sources that share real-time updates about what is happening in the airspace over Ukraine. Although the source of information is not revealed, more often than not, it is surprisingly accurate.
Usually, after a message on Telegram saying the air space has cleared and confirmed by the reconnaissance, most people sheltering in the subway start getting ready to go home without waiting for the official air raid alarm to switch off.
— A few more flying bastards from the northern direction!
"A few more flying bastards are coming from the northern direction," says a man, as if to himself or someone next to him, but louder and with disappointment in his voice because it means he will have to shelter for at least another hour.
"Oh, excuse me, where did you read this? I can't seem to see this in my feed," responds a woman next to me and asks for a link to the news channel.
We can't hear any explosions in the metro, but now and then, new waves of people are coming in. A family, two more families, two guys with a big bag looking like a guitar case and folding chairs, a woman with two dogs. It must be loud in the neighbourhood then. When explosions get frequent and loud, more and more people with pets get crammed into the underground station. Dogs can be spotted immediately, but cats are not noticeable since they are carried in bags.
One time, during heavy shelling, some guys brought a big dog. The dog was breathing heavily, spinning in all directions, trying to break away from its leash. The owner tried to calm him down, all in vain. I kept looking anxiously at the dog because my child was sleeping 3 metres away from the restless dog.
"Poor animals," says Ira. "My friend's cat got a contusion last night, can you imagine?"
I'm thinking about the cat we were going to get last August – perhaps it was the right decision to postpone it. Then I imagine how disappointing it must feel for our daughter. I tried convincing myself that there are carrier bags suitable for cats, so we would manage somehow. Or that perhaps it would get quieter by next August.
On 16 May, Kyiv was shaken by loud explosions. That's when Russian "Kinzhal" missiles showered the city. That day our metro station sheltered the most people it ever did. I realised things got really bad when I saw many families with school-aged children flocking to the metro. They usually don't happen to come, which is understandable: it is challenging to wake up children their age in the middle of the night, and in the morning, they will have to go to school or nursery feeling weary and sleepy.
A woman with a six-year-old son is sitting next to me.
"Is it loud out there?" I ask her. "Really loud! Our house is near the subway; I thought our windows would get broken."
She gently kisses her son on the forehead, trying to calm him down. The boy whimpers and pulls closer to his mother.
Two women on the other side are saying that they saw missile debris when they were running to the shelter. "There was a pile of iron wreckage lying near our house. My mother stepped on something and thought – that's it, that's the end," says the youngest.
Next, we are joined by Ira's friends: a woman with a grown-up daughter. They live about 20 minutes from the subway and rarely come here to shelter. Their husband and dad refuses to come, and they are both scared to walk alone.
I wondered earlier why there were so many men sheltering in the subway with almost no girls or women. And only now, during our conversation with Ira's acquaintances, I realised that women are afraid to leave the house alone at night. They believe there's a smaller probability of their home being hit by a missile than the chance of meeting some inadequate strangers on the streets at night.
Ira and I joke, saying we should open the night yoga classes in the subway — everyone has 3-4 spare hours here and yoga mats.
We also envy the men who work here fixing metro tracks at night. They seem to have the best job in the world, working in the subway during air raids. Plus, they have the whole day free and could sleep peacefully during the day.
Getting some sleep is unattainable luxury under current circumstances for Kyivites. I'm really looking forward to my 8-year-old being able to sleep through the night without having to wake up, walk and sometimes run to the shelter as the loud explosions unfold over Kyiv at night. She goes to bed at around 10:30 pm and sleeps until the air raid siren goes off. If it's a prolonged air raid, she manages to catch a few hours of sleep in the metro and then another 1-1.5 hours at home after we return from sheltering.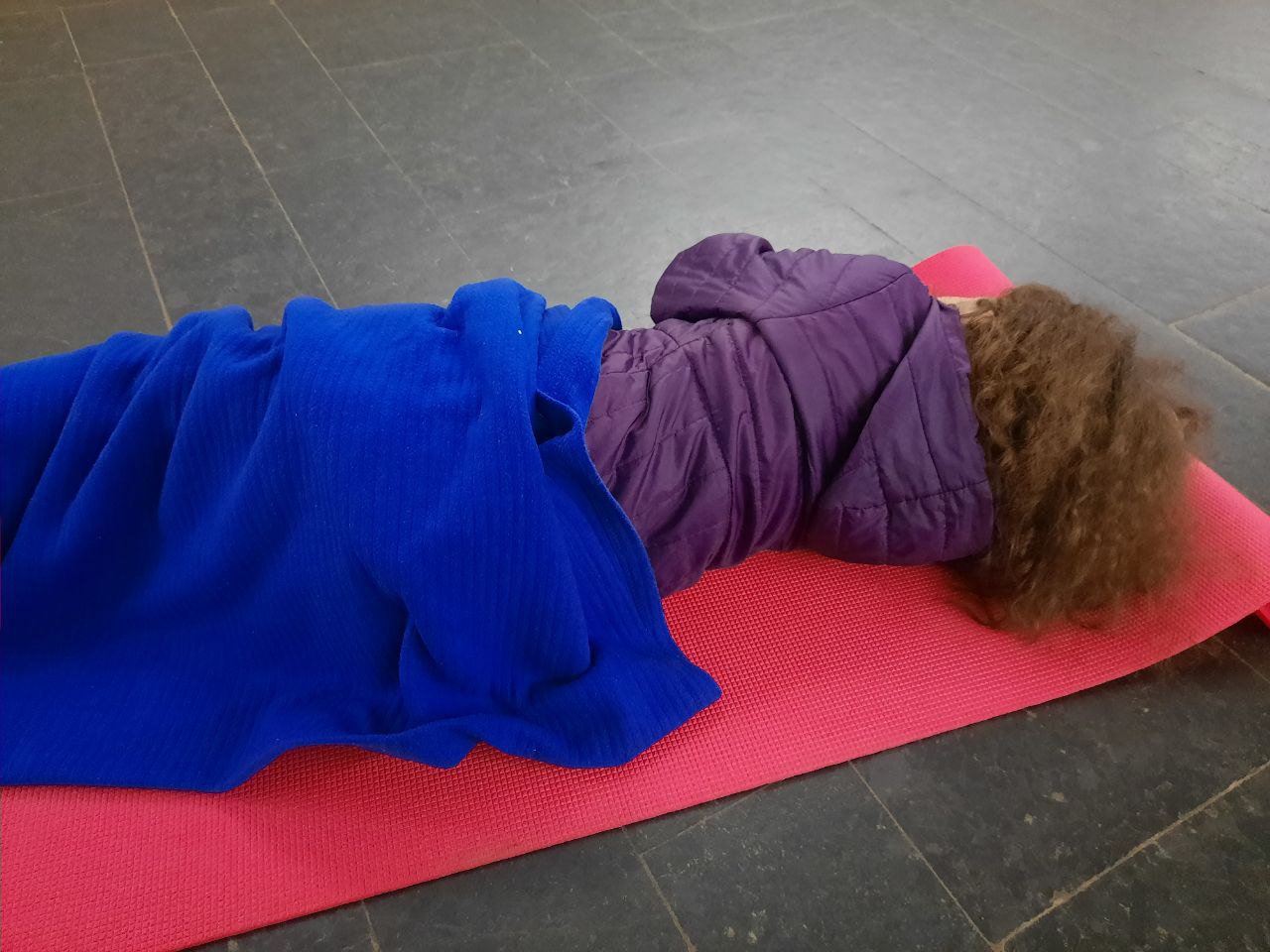 At 7:30 am, we start getting ready for school. Surprisingly, my daughter remains cheerful and upbeat, regularly rejecting my offers to stay at home and have a lie-in. But even so, in the last two weeks, we overslept the start of the school lessons three times, and my daughter had to go in late. On those days, I wake up to a message from her teacher: "Is Veronika going to be in today? If not, can you please warn us in advance?" In our case, an advance warning might be sent to the teacher at 5:30 in the morning: "Sorry, we have just come back from the bomb shelter. It's very likely that we will be late for school today." However, I silently tap on a heart in reply to her message on Viber and send in apologies.
Surprisingly, schools do not change their schedules under current circumstances. School administrations could have considered that children do not get enough sleep at night and cancel, for example, the first lesson or reduce the number of tests. After all, what kind of education can there be after a child spends a night hiding from missiles in a hallway or in a bomb shelter?
My husband and I have around 3 to 4 hours of sleep a day, mainly in the morning.
Heavier shelling means more people
After Russian shelling intensified in mid-May, significantly more people started coming to Kyiv metro at night.
One family with children comes to the subway by car – this is not the first time we have seen them. They bring large bags with tourist equipment for a comfortable stay in the underground shelter.
Now you must hurry after the air raid signal goes on, not only because of the life-threatening danger but also to get comfortable seats. If, for some reason, the nearest entrance to the metro is locked, people knock on the door and call the hotline so it gets opened. At the beginning of May, we would go to look for another entrance in silence instead. However, it gets more difficult for the metro personnel to ignore the crowd compared to a few women with children before, so they have no choice but to reluctantly open all doors without even trying to hide their discontent. The subway gets crowded.
"They should send you to Bakhmut to fight," a woman yells at security guard who took too long to open the entrance door
We didn't have time to sit down yet when our metro station was already featured in the news in one of the popular Telegram news channels: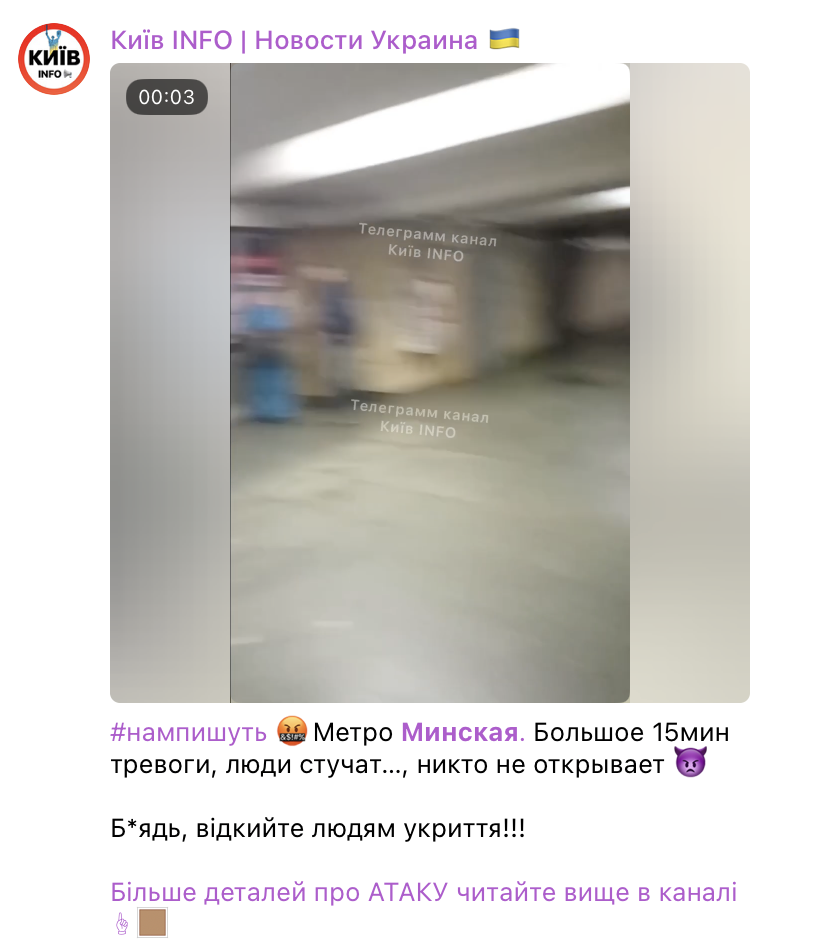 According to the Kyiv Metro, on the night of 28 to 29 May, more than 9,000 citizens were sheltering in the subway.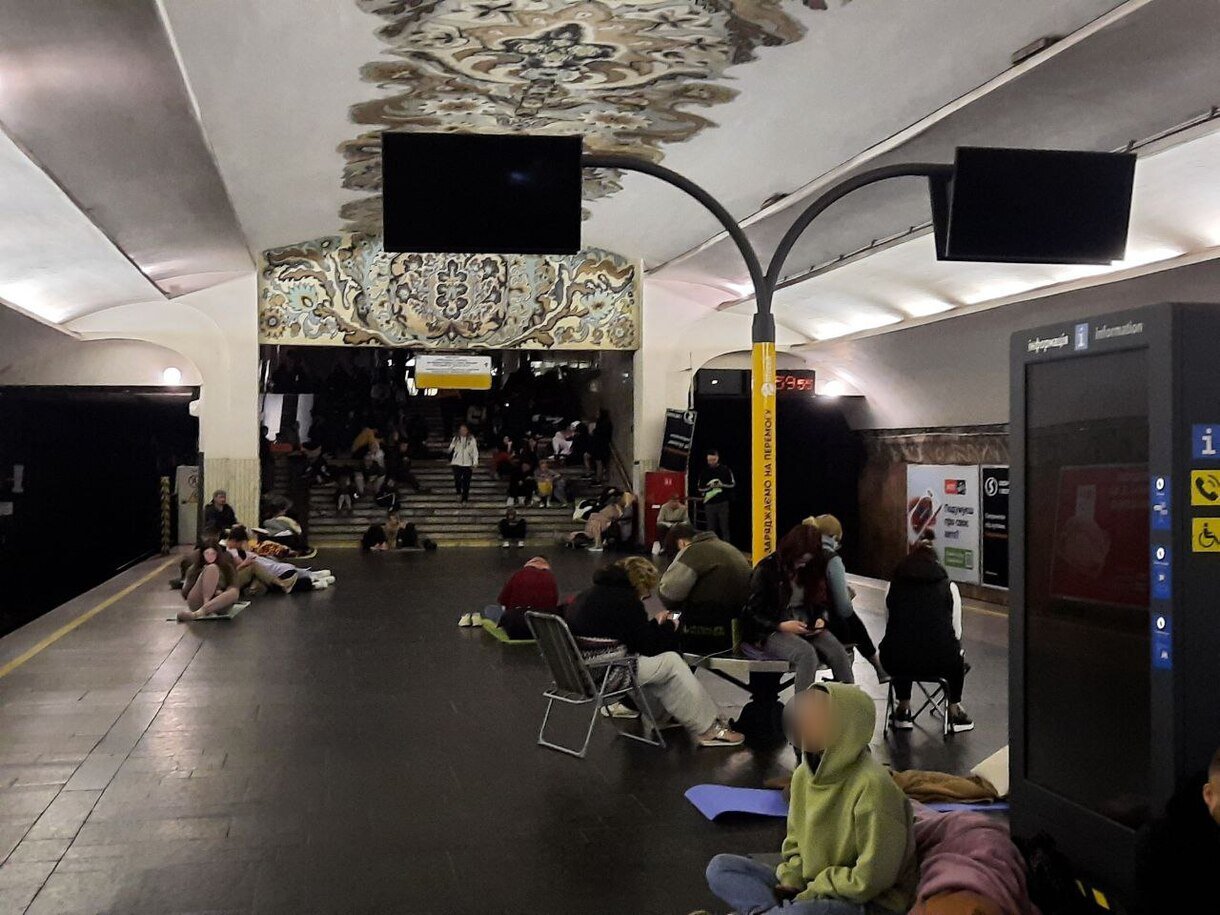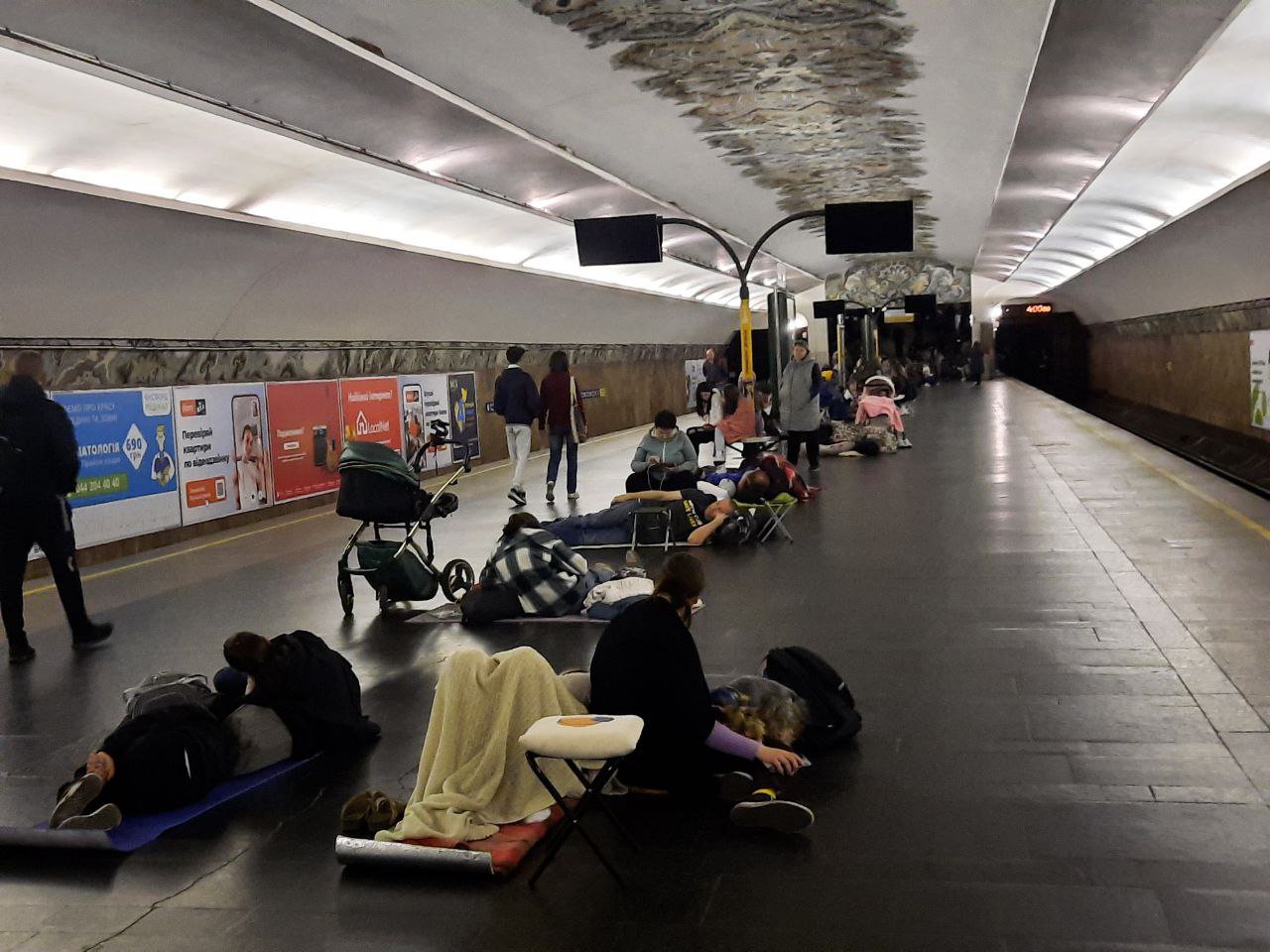 However, most of the time, there is enough space for everyone. Metro workers sometimes offer extra folding chairs. Although the chairs are not very comfortable, it is better to sit on them than to stand.
Can I get some coffee?
What is really missing is coffee machines or at least hot water dispensers. At 4 am, when Telegram channels write there are still a couple of drones left in the airspace over Kyiv, the time until the sirens' wailing stops seems like eternity without a cup of coffee.
Of course, you can always bring a hot flask with you, but sometimes you simply don't have enough strength to carry all the essentials to the shelter. To make sheltering in the metro slightly comfortable, you must take a lot of blankets and warm clothes since it's cold and draughty. And it's noisy. Some heavy-duty devices drive regularly, and employees perform repair and restoration work. And if a child can sleep through this noise, I certainly can't. But this is the only available shelter nearby that makes my daughter feel calm and stress-free.
At 5 am, passengers catching the first train arrive at the metro station. Most of them are middle-aged women. Ira says that they either work in bakeries or healthcare facilities. When I think about the bakery, my stomach starts to rumble – I have to remember to eat something before I go to bed when we get home. Sleepy and tired residents of the night metro are being replaced by freshly perfumed and stylishly dressed Kyivets. They rush to work, and we rush home to get some rest, at least for a while.
Hello there, new day!