How to buy railway tickets from Ukraine to abroad, and why it is not easy
Buying train tickets abroad through the website of Ukrzaliznytsia (The Ukrainian Railroads, further UZ), as well as its mobile application or chatbots is a complicated and confusing process. Meanwhile, one can buy a bus ticket to EU countries in a few clicks.
UZ sells tickets online only for a few destinations in Poland. Technically, one can get to Austria, Hungary and Slovakia by a direct train from Ukraine. But where can one find the schedule and prices for these destinations, and is it possible to buy tickets for them on the Internet?
In addition, tickets to Poland are impossible to find in the new UZ application. The train to Warsaw is generally something mythical. Tickets for this train are permanently unavailable on the UZ website.
With our research, we are looking to clarify the complicated system of selling tickets for UZ trains abroad, which 600,000 passengers have already used after the closure of the airspace on February 24.

Translated by Dmitry Lytov, Mike Lytov

Read this article in Ukrainian
Ticket office or website?
On the UZ website, you can buy tickets for only a few destinations abroad — to the Polish cities of Przemyśl, Chelm, Lublin and Warsaw.
At the information desk at the central railway station in Kyiv, they showed us a printout with available directions and explained that UZ sells all tickets to destinations abroad (except for the mentioned Polish cities) only through the central station's ticket office. All details about the train schedules, stops, and availability of tickets should also be obtained through the ticket office or by phone at the help desk.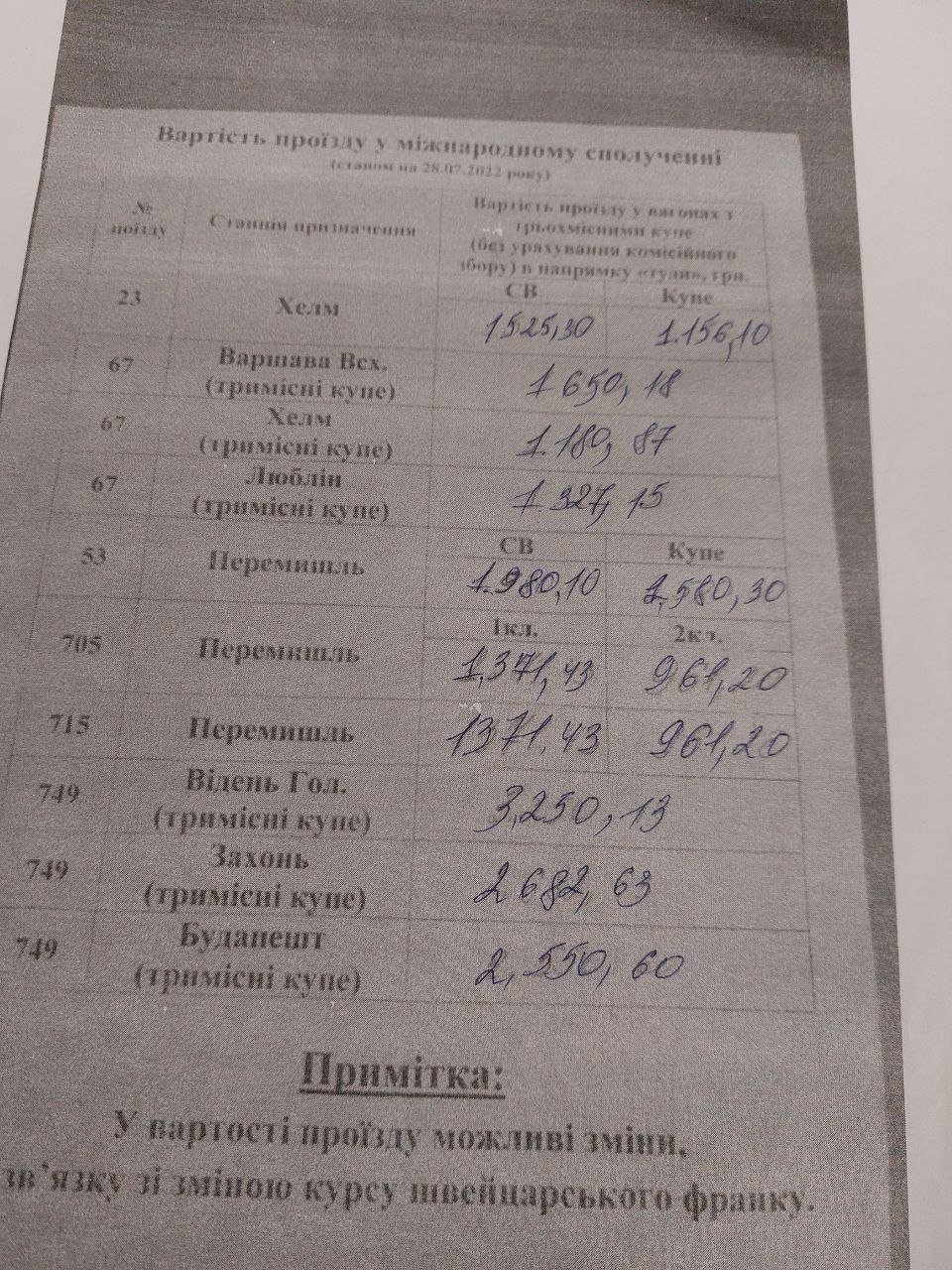 They could not explain why these tickets cannot be bought on the UZ website, application, or chatbots. We addressed this question to the press center of UZ.
They replied that there is a separate page on the website of UZ with details about all trains traveling abroad. A complete list of trains to foreign destinations (with transfers or direct trains) and their schedules is available on this resource. Prices are not provided - you need to specify them when buying tickets on the UZ website (for routes to Poland) or at the ticket office (for routes to Austria, Slovakia, Hungary and the Czech Republic).
How to find details of routes to the EU?
To find out details about available routes abroad, you need to go from the ticket search page (where you usually buy tickets and where your browser takes you when you search for the UZ site) to the main page of UZ. On the right sidebar, there is an "International trips" button - click on it. Or just follow this link.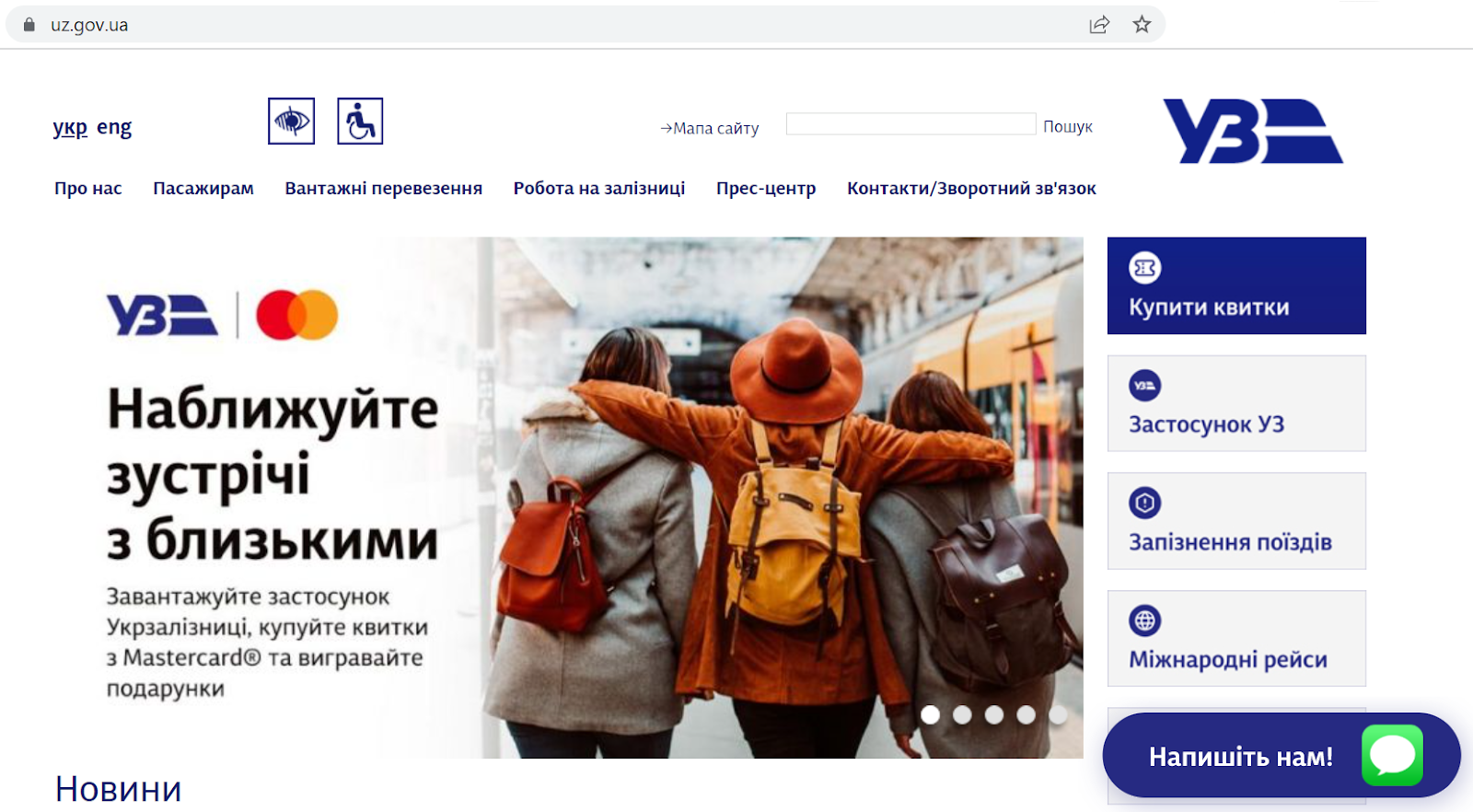 A page will open with information about all the details of international trains from Ukraine to the EU. On it, you can choose a convenient train and buy tickets - either on the UZ website or at the station ticket office.
(Translator's note: the information below seems to refer to the website in Ukrainian. The website also has an English version. As of October 26-27, 2022, either version of the ticket booking page did not allow me to navigate to the main page, which simply would not open. The very menu of the ticket booking page only contained a single international destination, i.e. Przemyśl, and there was no indication as to where to look for other international trains, if any)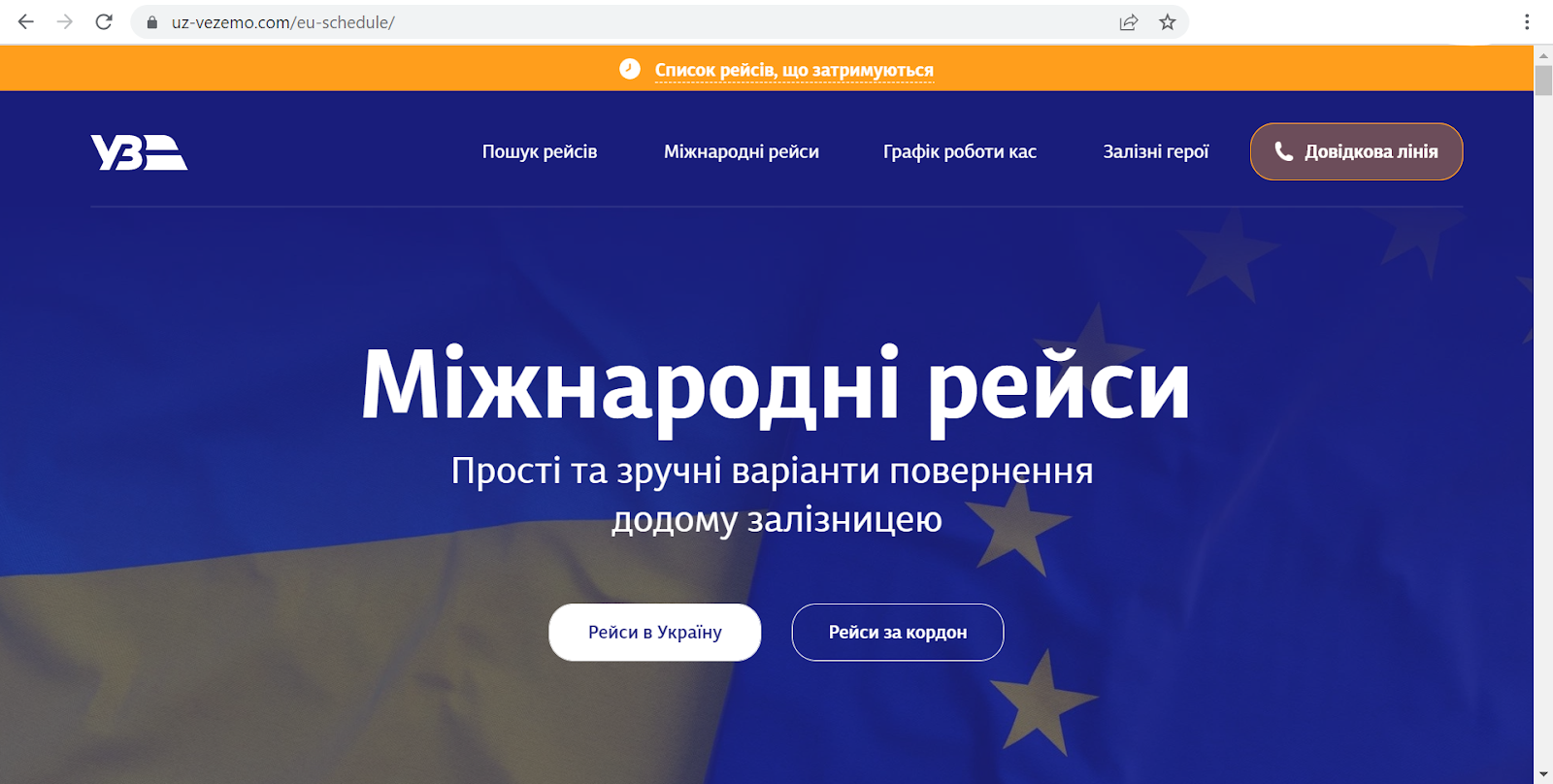 Foreign routes offered by UZ:
- to the Polish cities of Przemyśl, Chelm, Lublin and Warsaw. Tickets for these destinations can be bought through the UZ website;
- to the Hungarian capital Budapest or the city of Zahon, located near the Ukrainian border. Tickets for these trains can be bought through the ticket office;
- to the Slovak city of Čierna nad Tisou and Austrian Vienna. Tickets for these routes are bought through the ticket offices of the station.
If you are planning a trip home from abroad, details of trains from EU countries to Ukraine and links to websites of foreign railways are published on the page with international routes.
There you can buy train tickets to Ukraine. They must be printed at the ticket office of the station or in self-service machines at railway stations abroad.
UZ provides links to all railways, except the Slovak ones. And on its website you can buy train tickets from the Slovak city of Čierna nad Tisou to Chop.
This page also has links to the sites of foreign airports closest to Ukraine, which can be reached by train. The page also offers options for changing trains to some cities in central Europe, such as Berlin and Munich.
Why not online?
The press center explained to us that UZ can sell tickets through its website only for trains operated by Ukrainian Railways. That is, you can buy an Intercity ticket to Przemyśl on the UZ website, because this train is part of UZ railways.
And the trains running from Chop to the city of Čierna nad Tisou, for example, are part of the Slovak Railways, which is why it sells tickets for this train. The situation is the same with the Chop-Zahon train — they are part of the Hungarian Railways. Tickets for these routes must be purchased at station ticket offices.
There is one exception here - the Kyiv-Vienna train, which also stops in Budapest, the capital of Hungary.
This route is served by direct wagons of Ukrainian and Austrian formation. The Ukrainian ticket sales system for this route should be connected to the Austrian railway.
These systems are technically different from each other, so buying tickets online on the UZ website for this route is not available. If you bought a ticket through the UZ website, the conductors in Austria would not be able to validate your travel document. Therefore, tickets for this train must be purchased at the ticket office.
Resellers and Poland
But not everything is simple with tickets to Poland. For example, the train to Warsaw is completely sold out several weeks in advance. UZ explains that there is a very high demand for this route. But passengers believe that resellers buy out these routes. On the Olx marketplace, you can find ads for the sale of these tickets or the services of resellers who will help "catch" tickets for you during the opening of sales.
In addition, tickets to Poland cannot be bought through the UZ app or chatbots. The reason was explained to us in the press center of UZ: the application was launched in an accelerated mode. In it, you can view the availability of tickets, but not buy them. UZ promises to add a purchase function to the application after the update.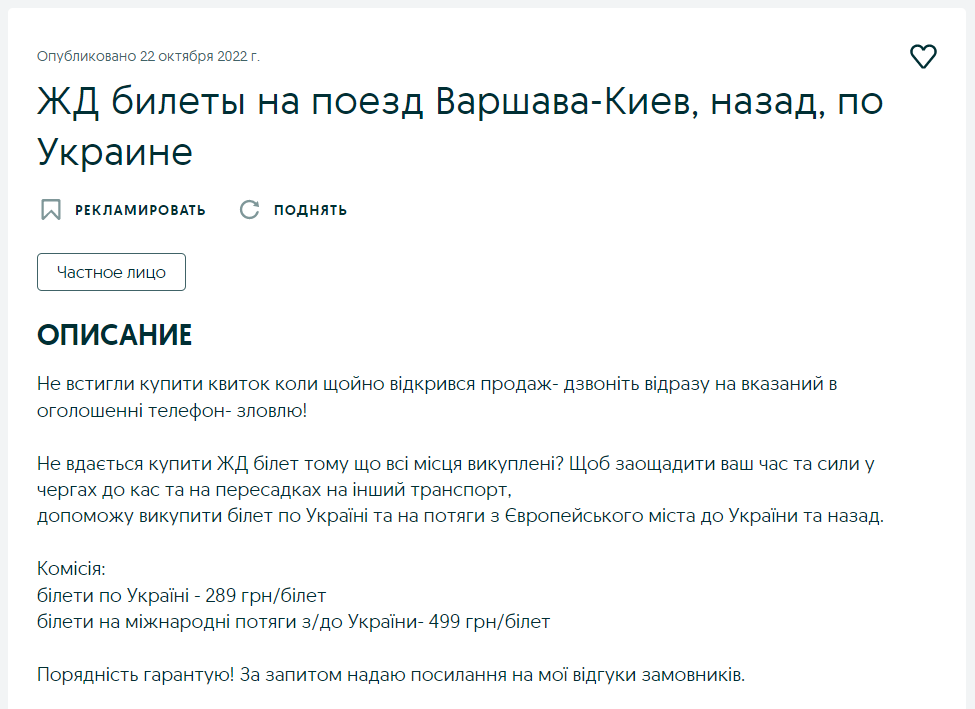 What you should know about tickets for foreign trains
You can travel by train from Ukraine to Poland (Przemyśl, Chelm, Lublin, Warsaw), Hungary (Budapest, Zahony), Slovakia (Čierna nad Tisou) and Austria (Vienna) without changing trains.
Tickets to the Polish cities of Przemyśl, Chelm, Lublin and Warsaw can be bought on the website of UZ here. If you do not see tickets to these cities on the website, then all of the seats have already been sold out.
Tickets for trains from these cities to Ukraine can also be bought on the Polish Railways website.
Tickets from Kyiv to Budapest and Vienna should be purchased at the ticket office due to the lack of a UZ agreement with Austrian railways for online ticket sales and the difference in the technology of ticket sales systems.
You can buy tickets from Vienna to Kyiv on the Austrian Railways website. Tickets purchased online must be printed at self-service ticket offices or at a train station ticket office in Austria.
Tickets from Budapest to Kyiv must be bought at the ticket office of the station in Hungary - for some reason, this cannot be done on the website of the Austrian and Hungarian railways.
Tickets from Chop to Zahony and Čierna nad Tisou should also be bought through ticket offices, as these are trains formed by foreign railways.
Tickets from Zahony to Chop can be bought at the station in Hungary or on the Hungarian Railways website.
From Čierna nad Tisou to Chop — at the train station in Slovakia or on the Slovak Railways website.