Imported Accessories Found in Military Equipment of the Enemy's Army. What Companies Haven't Exited the Russian Market?
Since last February, a part of the Western companies whose electronics are used in production in Russian weaponry promised to stop their activities in the Russian market. However, even a formal withdrawal from the market does not always mean that their accessories disappear in the Russian territory immediately. Trap Aggressor analysts drew attention to the Russian distributors of electronics, websites and social networks of which still keep on announcing new supplies of imported goods.
Roman Steblivskyi, Trap Aggressor analyst
March 2022. Russian tanks from Uralvagonzavod, which is one of the largest tank producers in Europe, emerged near Kyiv, where they eventually turned into scrap metal.
At the same time, the above mentioned Russian plant announced tenders for the supply of tank spare parts made in Europe.
When Russia declared its war on the global world and market relations simultaneously, it got trapped, with one head of the eagle attacking the Western world and discarding advantages of the global economy and the other demanding foreign accessories at tenders issued by state-owned factories.
Two tenders in March
For example, pressure transformers had necessarily to be Polish and brand new rather than second hand, with the producer being a specific Polish company Aplisens.

Uralvagonzavod used the other tender to procure reduction gearboxes. One of the item requirements specified that these reducers had to be made by the German company Getriebebau Nord or their equivalent.
Since there is no information about names, addresses, numbers of suppliers in tender documents, we don't know what companies have supplied the accessories. However, the both tenders ended in signing contracts. So, Uralvagonzavod is likely to have received its Polish and German accessories.
These tenders illustrate the need of the Russian military and industrial complex of Western technologies. In order to draw a wider picture of this dependence, Trap Aggressor analysts systematized all available information in Ukrainian and foreign sources about foreign electronics used in military equipment of the Russian Army.
Following the battles in the territory of Ukraine, Trap Aggressor determined 39 types of weaponry and equipment of the Russian Army with foreign processors, modules, chips, etc. These are tanks, unmanned aerial vehicles, striker jets, as well as night vision devices, binoculars and radios.
The suppliers included 69 countries from the developed countries such as Japan, the USA, Germany. Trap Aggressor has made a list of such companies.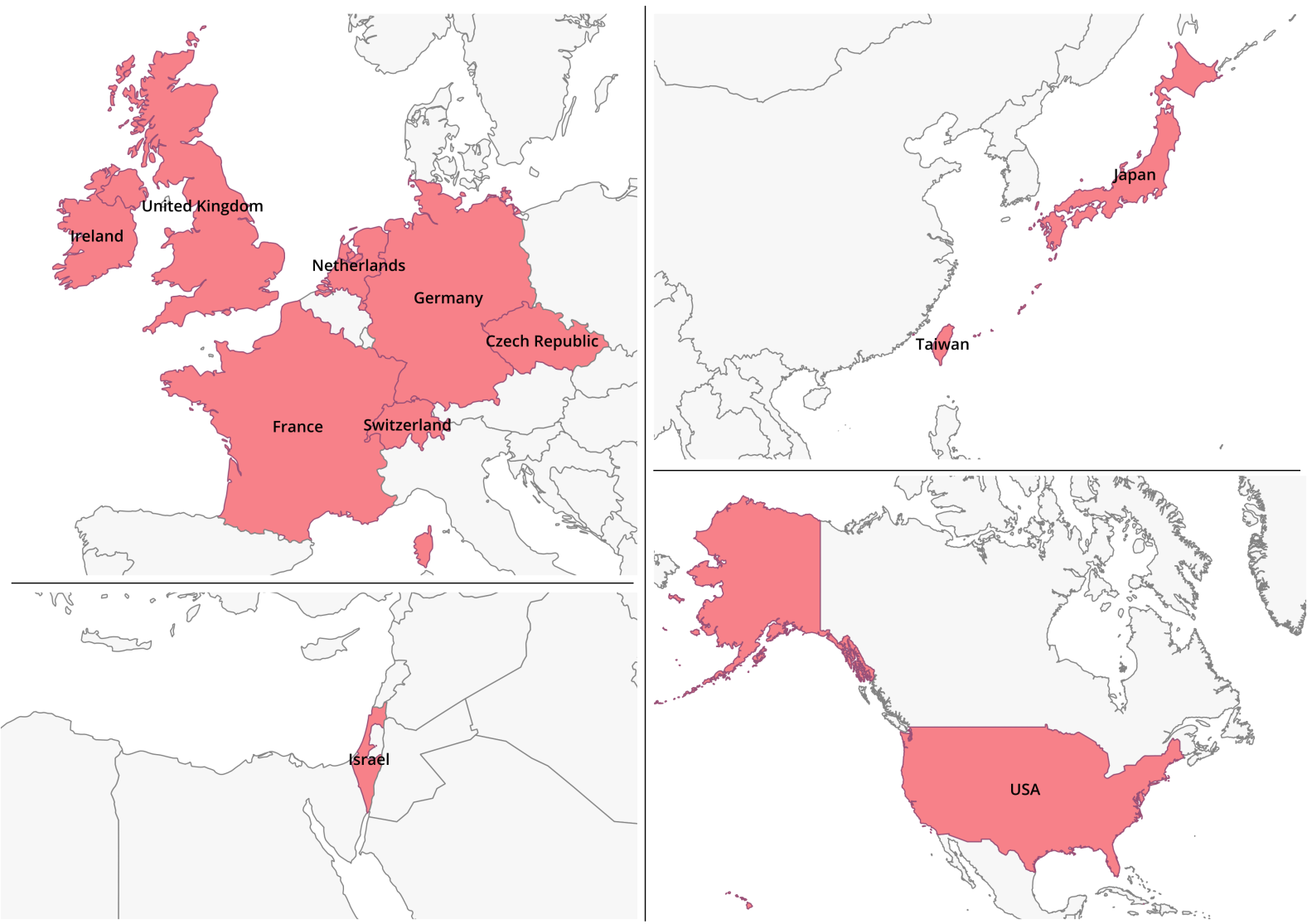 You can track down electronics of what companies are used in Russian weaponry and whether this or that producer has exited the Russian market in the chart, which enables one to search and filter necessary information.
Country
Type of weapon
Weapon
Item
Entity
Status in the KSE
database, 15.09.22
Source and date
Producers
Thus, operational memory chips made by Cypress Semiconductor, which was bought by the American giant in the sphere of semiconductors Infineon Technologies; chips made by Advanced Micro Devices (USA); DC/DC converters of Traco Power Company (Switzerland); chips Altera, which was acquired by Intel (USA), etc., have been found in the Iskander cruise missile. Electronics of Western producers are also present in other Russia-made cruise missiles such as Kalibr, Kinzhal, Kh-101, which ruin Ukrainian towns and cities.
Following last February, a part of the Western companies whose electronics are used in Russian weaponry said that they would stop their activities in the Russian market. According to the LeaveRussia project of the Institute of the Kyiv School Economy, 17 companies from this list have informed of their exit.
Infineon Technologies whose electronics the Russians have used in the self-propelled artillery systems Tornado-C and missiles informed that they had expressed their solidarity with Ukraine by having quitted supplying their goods to Russia since last February.
Intel whose chips were found in Tornado-C, Iskander and Ka-52 helicopters suspended its suppled to its clients in March, though nothing was officially said about its local branch offices.
Nothing has officially been stated by Advanced Micro Devices whose chips were used in Russian radio stations, missiles, surveillance devices about their withdrawal, though official representatives of the company informed about suspending sales of the company's produce as long ago as in March.
Two companies from our list were given the status of Waiting. Downsizing Activities by analysts of the Kyiv School of Economy. In particular, it was in August when, according to the media, the German company Bosch, which supplied fuel systems for Russian trucks, started looking for potential buyers of its Russian assets. Prior to this, the German Ministry of Economy launched an investigation into the violation of the ban to export goods by Bosch.
Before, another German company ZF Friedrichshafen supplied gearboxes for trucks, but, following the full-scale invasion, informed of its supporting Ukraine and abiding by sanctions legislation.
Four companies were shown a red card with status Still Operating, among them one of the biggest suppliers of semiconductors Texas Instruments. Accessories of this company were found in Russian radio stations, helicopters, missiles, and drones.
The Swiss TE Connectivity whose chips were used in Ka-52 Alligator helicopters, as well as American On Semiconductor and German Harting with electronics for missiles have not yet withdrawn from the Russian market.
All other producers of electronics used in Russian equipment are missing in the database of the Kyiv School of Economy. Information about some of them, however, can be found on the Internet.
Thus, Cummins, the largest producer of engines used in Russian Tigers and KamAZes, said in March that the sanctions could affect its business with dozens of clients in Russia.
The British Golledge Electronis whose generators were found in air-defense Tor-M2 system stated in March that it supported Ukraine and could not further conduct its business in Russia, though it "support those ordinary Russian citizens who wish their country were not taking part in this campaign".
However, even a formal withdrawal of a company from the market does not always mean that its accessories immediately disappear in the Russian territory.
Sellers
We have paid attention to the Russian distributors of electronics whose web sites and social network pages still announce new supplies of imported goods. Thus, during the summer, the VKontakte page of Promelektronika regularly informed about "special proposals" of goods made by Infineon Technologies, Analog Devices, Microchip Technology, Murata Manufacturing, Nexperia, TDK Electronics.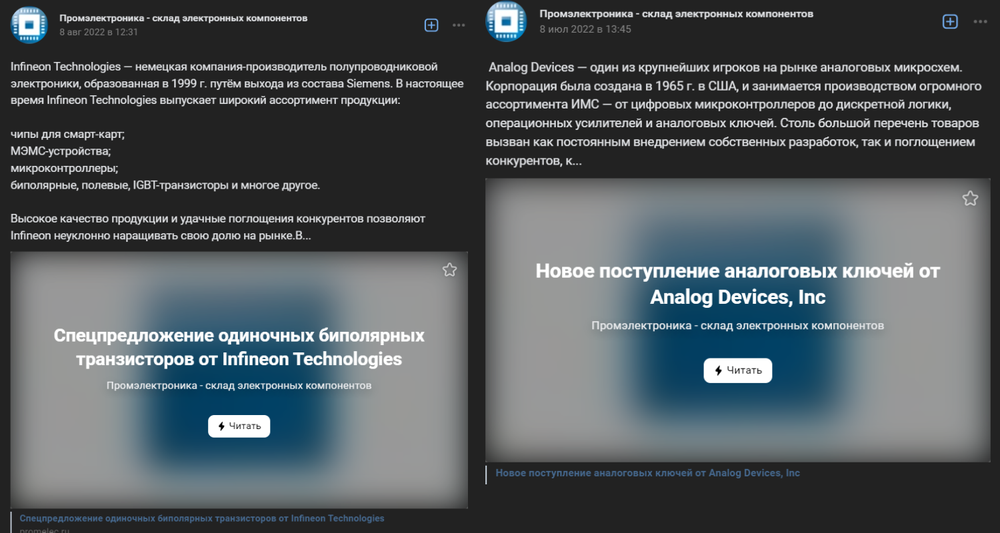 It is possible that the distributor is just selling out the remainder from its warehouses. However, the probability of new supplies to Russia should not be excluded too. We received an answer from Infineon Technologies, which, having expressed its support of Ukraine, clarifying that the company made its last supplies to Russia as long ago as last March. Moreover, it regularly sends instructions to its distributors, prohibiting to supply its goods to the sanctioned Russian Federation.
The Russian military and industrial complex has been pumping itself with Western technologies during decades, which is proved with the ongoing war. For this very reason, Ukraine and its allies must impose more pressure on the companies producing electronics and equipment the Russian Army depends on.
This analytical material has been prepared within the project of the Institute for War and Peace Reporting with support of the Ministry of Foreign Affairs of Norway.