"On fire": How Ukrainian artillery forces strike Russia's positions in the rear. Map overview
In the past 10 days, there has been a significant increase in the number of Ukrainian attacks on Russia's rear military positions. Ukraine troops are now actively using HIMARS (High-Mobility Artillery Rocket Systems) supplied by Western allies. They are believed to be the modern analogues of the Soviet Uragan and Smerch fire systems.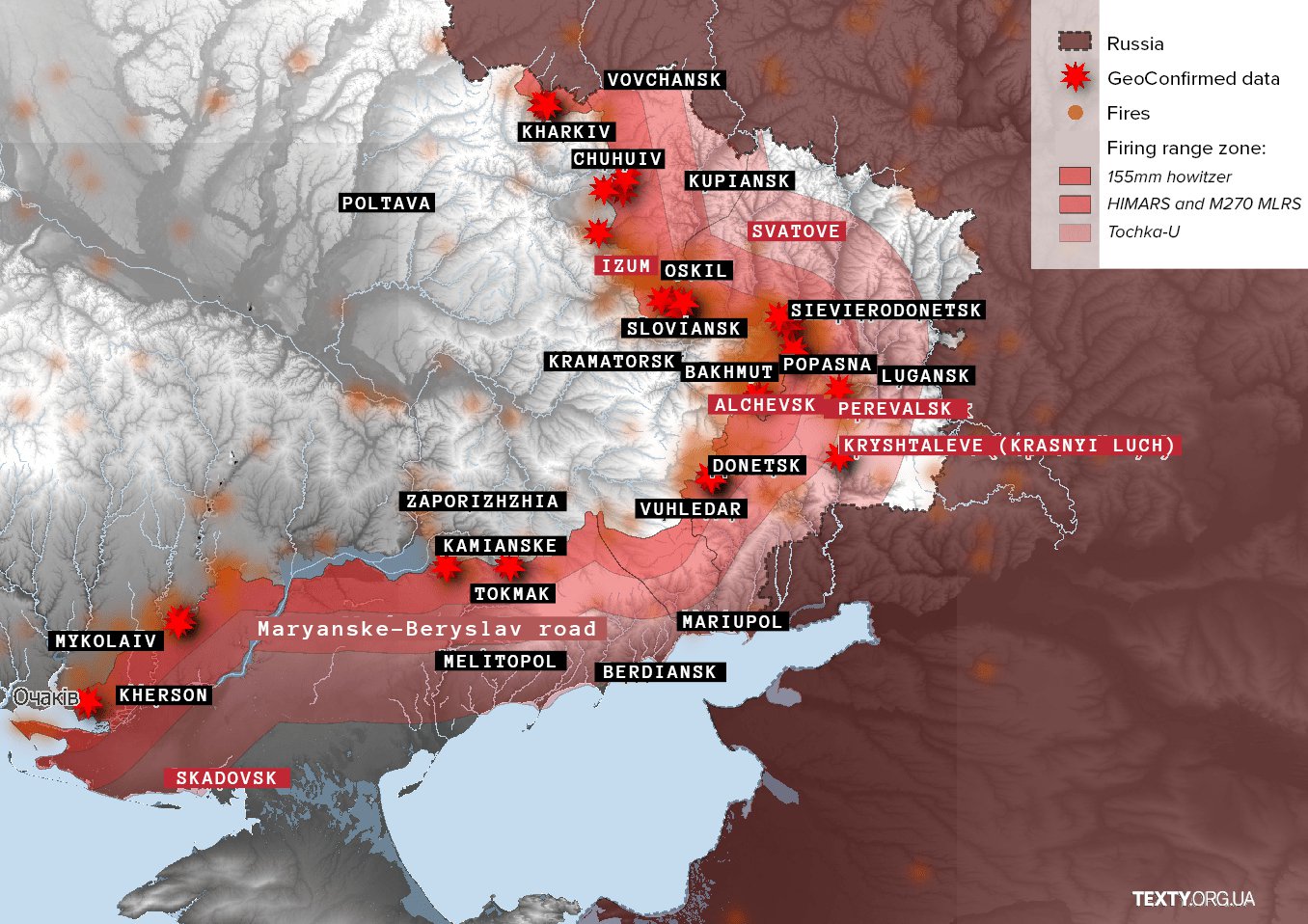 In addition, both HIMARS and M270 MLRS have a more advanced loading system (rockets are being loaded in a package, not individually).
Another feature is their accuracy. Ukraine expects to receive guided missiles that can precisely strike the given targets. Soviet MLRS, on the contrary, can only hit the target areas and not a specific target in one strike.
We also sincerely hope that ATACMS missiles, which can strike targets at a maximum distance of 165 to 220 kilometres, will be supplied to Ukraine along with the HIMARS and M270 MLRS. This could put them into the category of tactical missile complexes.
Obtaining high-precision and long-range weapons can become a dominant factor for the Ukrainian army.
Since 20 June, the Armed Forces of Ukraine have started actively hitting rear targets in Russia-occupied territories of Ukraine.
Several explosions were heard in Alchevsk and surrounding towns, as well as in Izium and Skadovsk across eastern and southern Ukraine. In the near rear of the Russian forces, up to 50 kilometres behind the front line, the NASA Firms fire monitoring system have also recorded significant fire activity.
Destruction of the enemy's logistics is one of the key tasks for Ukrainian artillery given that forward units without ammunition and technical supplies can neither advance nor defend.
The active use of multiple rocket launchers HIMARS in addition to "Tochka-U" tactical missiles by Ukraine would force the Russian army to move its supply facilities further away from the front line, meaning that logistics will become more complicated.
Methodology
The map shows approximate target range areas for various systems: 155-mm howitzers (M777), HIMARS and M270 MLRS, as well as "Tochka-U".
We "positioned" missile systems 20 km away from the front line in the rear of Russian forces. The maximum firing range for HIMARS (specifically, for systems that have been supplied to Ukraine) is 70 km. Taking into account the location of the systems, the damage zone will stretch up to 50 km deep into the occupied territories. For "Tochka-U" this distance will be 100 km.
M777 howitzers were "placed" 1 to 5 km behind the front line.
In addition, we included data on fires recorded by NASA Firms and data provided by GeoConfirmed, a Twitter community that geolocates existing photo and video materials (red marks on the map). The names of the towns and villages in red are to show points of explosions and shelling recorded during the last 10 days.
For more details see the maps below:
Kharkiv direction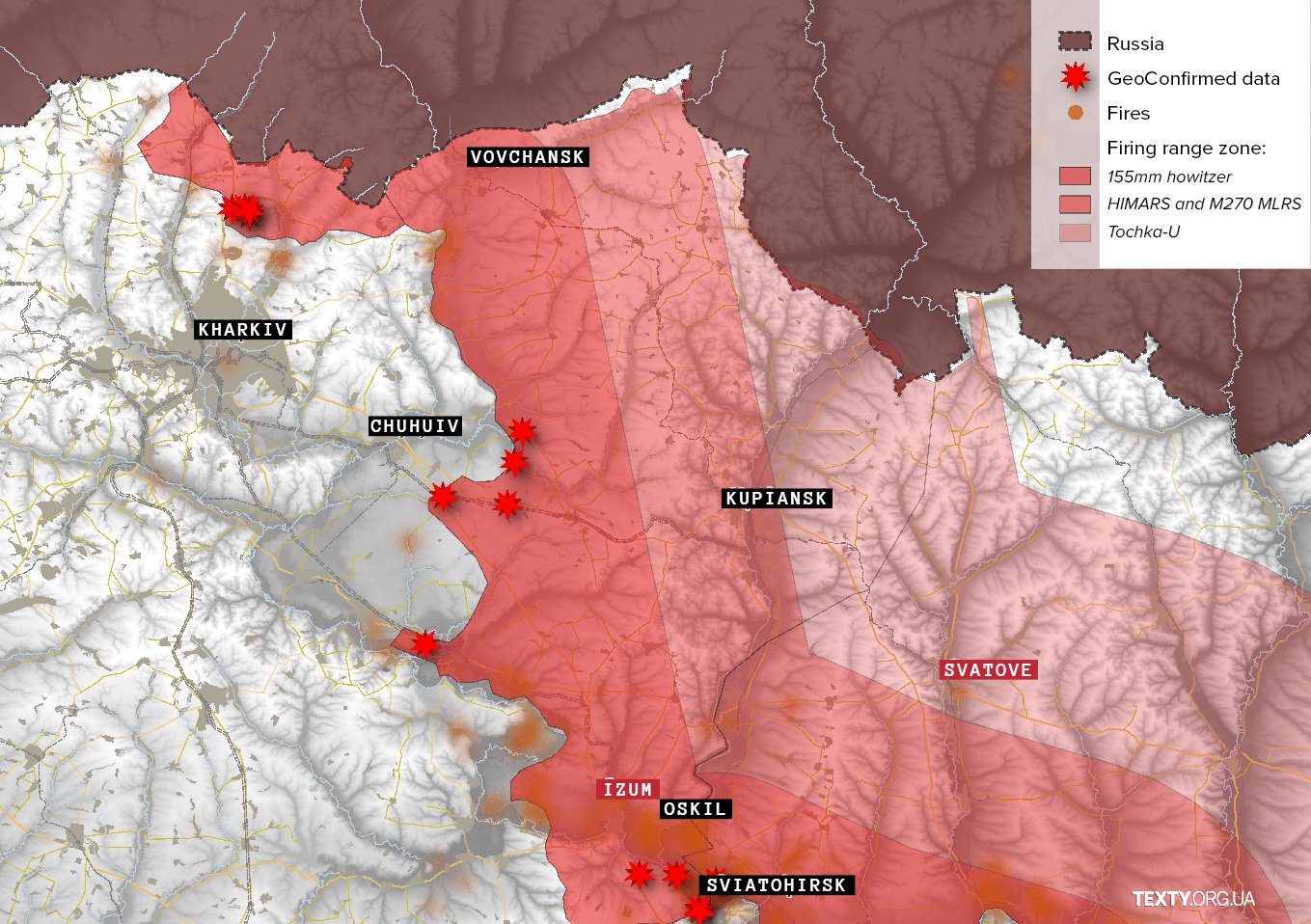 Sloviansk direction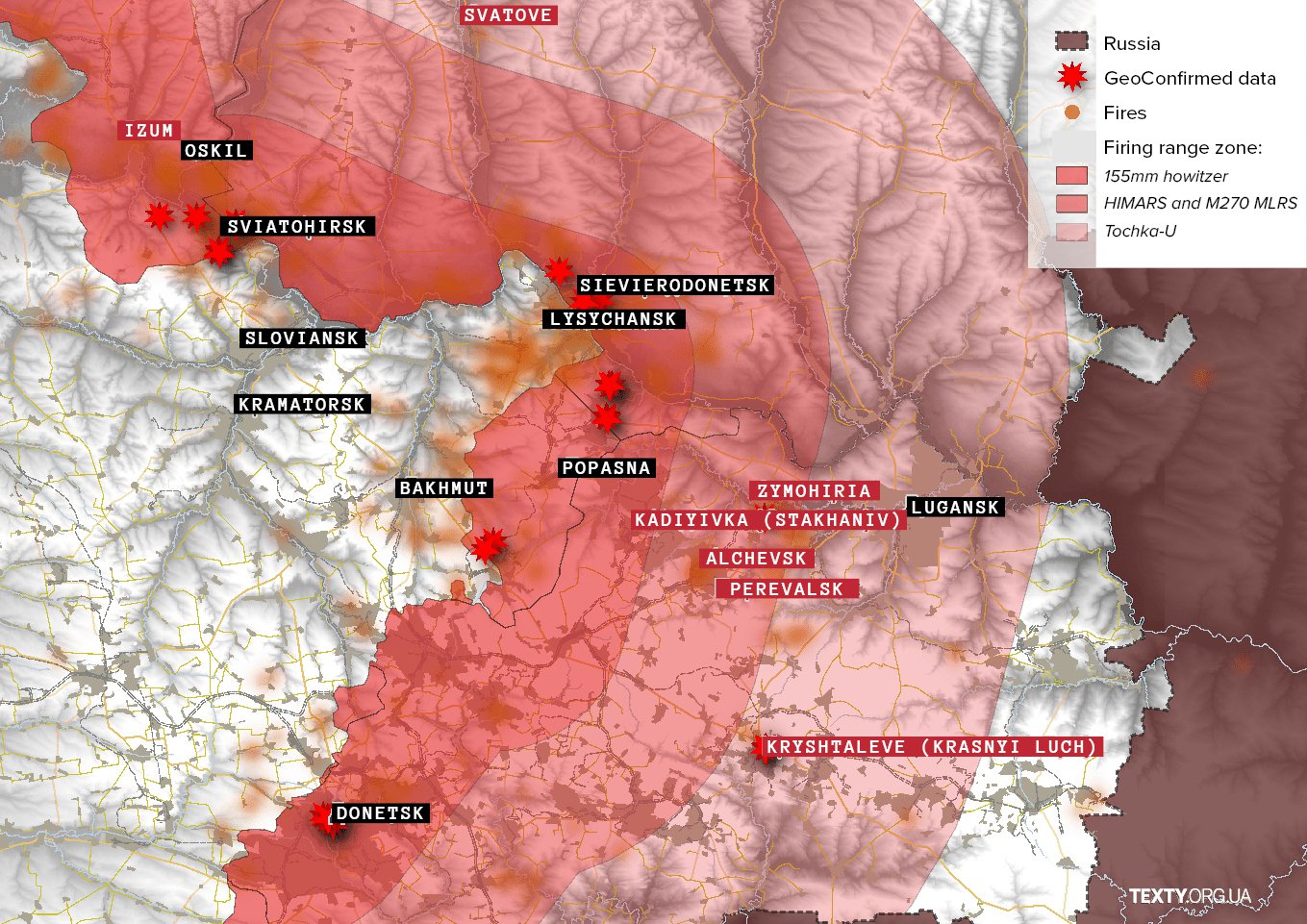 South of Ukraine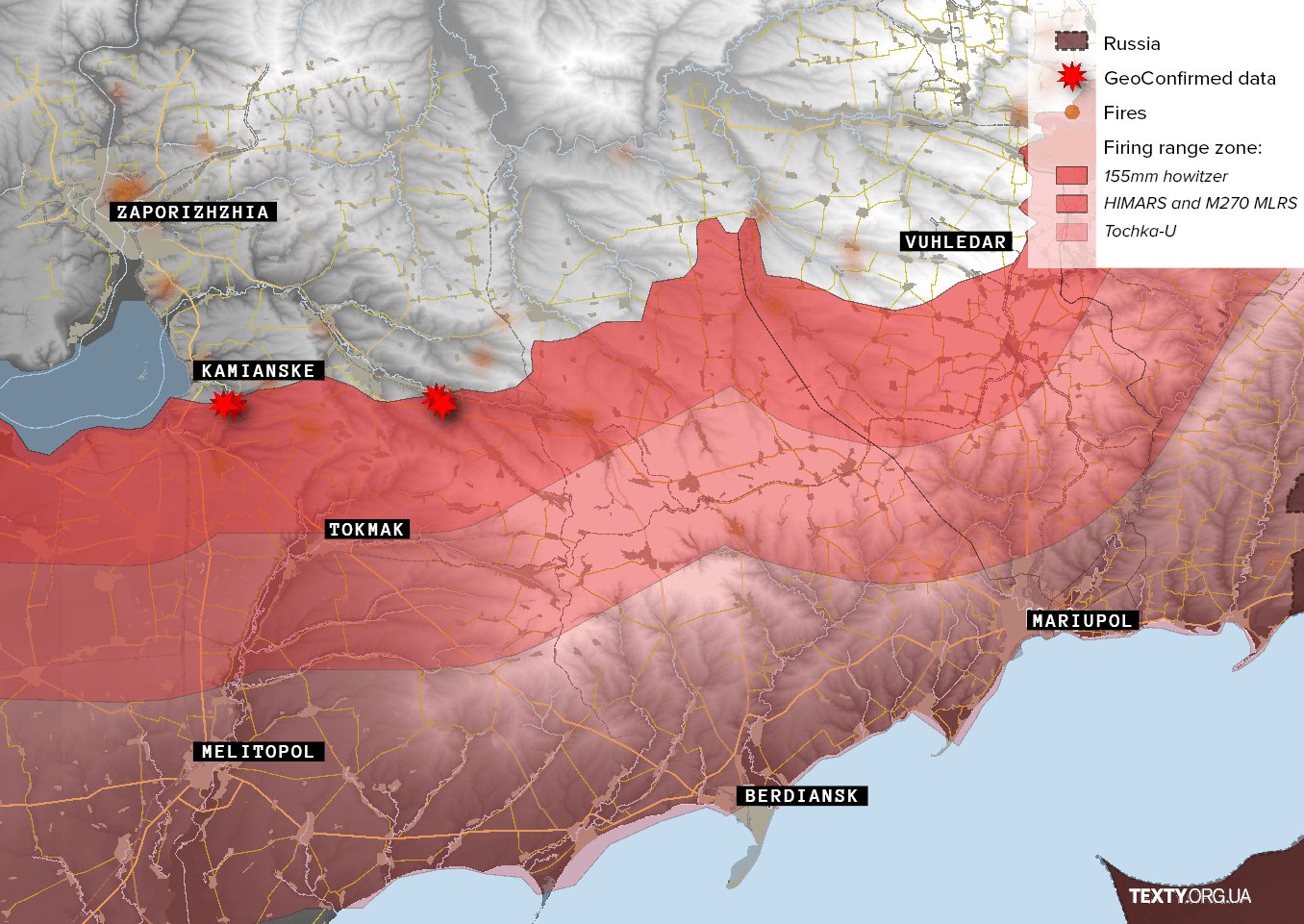 Kherson direction