How reporter Gian Micalessin promotes Russian propaganda on Italian TV
Reporter Gian Micalessin heads to occupied Melitopol and passes some Russian combat vehicles on the way, all marked with a large letter Z. In the city, he cheerfully poses near billboards erected by the occupiers on the eve of Victory Day, and says that the appearance of the city has changed since the Russians decorated it with symbols of the Soviet Union and images of their heroes.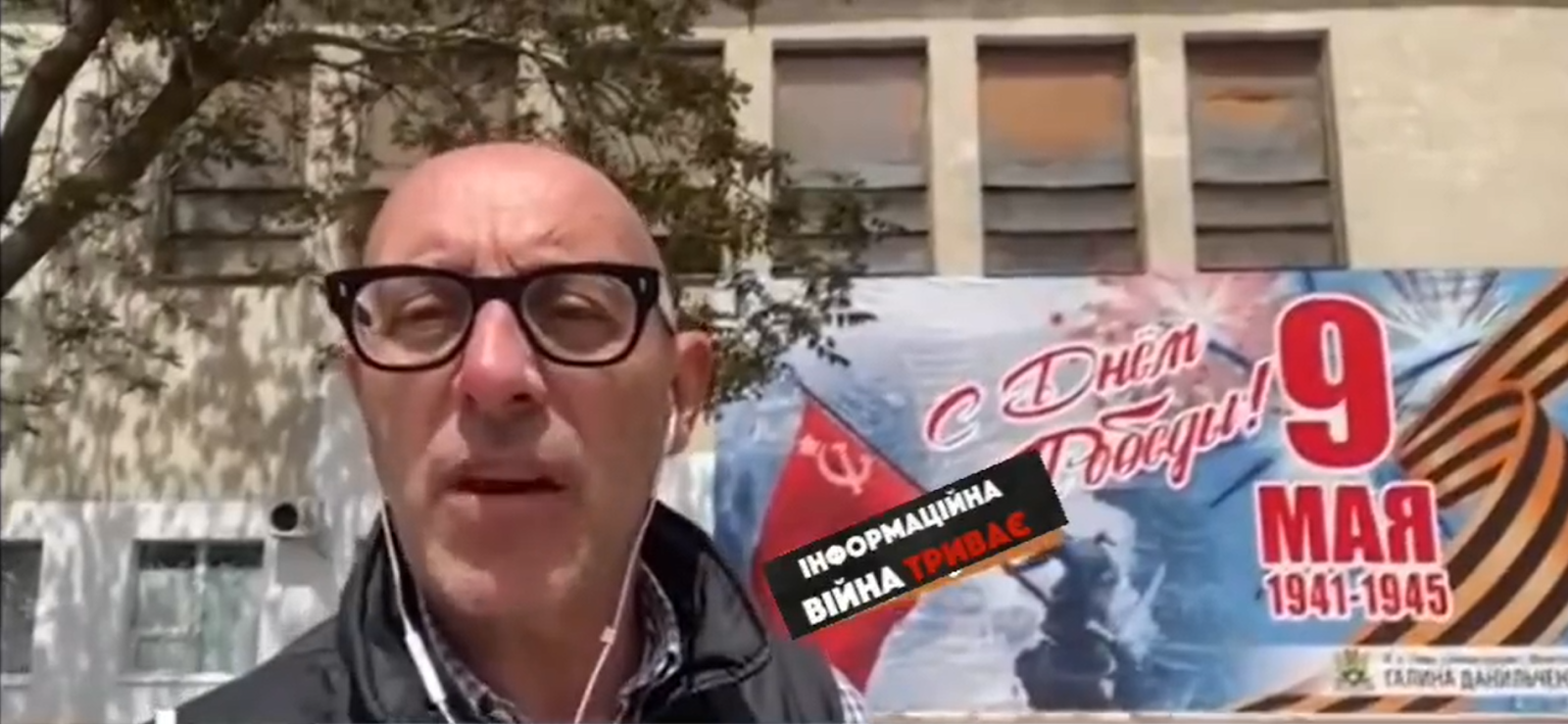 Translated by Dmitry Lytov, Mike Lytov
He further emphasizes that the changes took place primarily in the government, as the Russian administration is already in charge here. Micalessin goes to the office of Halyna Danylchenko, whom he calls the mayor, shows footage of her busy and smiling in the city administration's press center, and adds that she "replaced the old Ukrainian mayor, Ivan Fedorov, who was ousted and then arrested by the Russians." He quotes Danylchenko as saying that the Russian administration will soon complete the transition of power. While in the video we see Russian "Cossacks" carrying something in packages for local residents, Micalessin assures that the Russian ruble will soon be introduced in Melitopol, Russian license plates will be installed on cars and Russian banks will start operating. So, according to him, it won't take long to see "normal life" restored.
"What is this?" Ukrainians ask, surprised, upon watching this story on the national Italian TV channel Rai1. Even if you do not know the language, you can guess by the contents of the video that something is "wrong" with it. Even a basic knowledge of Italian is enough to understand that the message is blatantly pro-Russian.
Since February 24, when the first Russian missiles exploded in Ukrainian cities, the phrase "not everything is so one-sided", used to refer to relations between Russia and Ukraine, quickly became obsolete. Observing the support of European countries, we can assume that they are now also aware that Russia is our common enemy. Meanwhile in Italy, on the first channel of public television, one of the journalists regularly goes on the air with videos similar to the one described earlier. In his stories, Gian Micalessin does not say a word about the fact that Halyna Danylchenko is a collaborator who seized the position of "mayor" with the help of Russian weapons and was not elected by the citizens. And Ivan Fedorov, who remains the official mayor of Melitopol, was not actually arrested, as the reporter claimed, but abducted, taken prisoner and then exchanged for Russian prisoners of war. But Micalessin ignores all of these known facts.
As for normal life within this situation, what kind of "normality" can we talk about? Let's draw an analogy to the Italian city of Florence. Imagine that one February morning, the dome of the Cathedral of Santa Maria del Fiore is hit by aerial bombs. Meanwhile, tanks and combat vehicles move in from all sides in Tuscany, from the foothills and plains towards the city, and a landing operation is coming from the sea. Armed men break into Mayor Dario Nardella's office, put a bag on his head, take him somewhere else for torturing, and keep him captive until the Italian government intervenes. Meanwhile, the occupiers place whoever they want in positions of power, display their symbols everywhere, try to introduce their own currency and provide "humanitarian aid" to residents who can't get food because the occupiers are blocking supplies, and people are running low on cash. If any of the citizens oppose such a situation, they are abducted, tortured and shot. Finally, the invaders offer the Florentines to reconcile, because it would bring a return to "normal life". Would many Italian journalists agree with such a picture of "normality"? If not, then why would someone offer the same to us Ukrainians from the Italian TV screen with a happy smile? And why would someone assure the Italian audience of this channel, who pay taxes to keep it running, that this is a "normal life"?
More generally, how could such a blatantly biased story containing extremely unreliable statements appear in the news release of TG1, the country's main public broadcaster?
"I don't know why they use people who are cooperating with the Russian army," said our source from Rai1. "Gian Micalessin did not sign a contract with Rai1, he is a freelancer who simply sells his news reports to the company. This is because he knows the editor-in-chief of TG1 well. Yesterday he was on the air again. I don't know how much they pay him. "
But why do they still buy such "work" of his? Sources in the Ministry of Foreign Affairs say that Micalessin does not even have accreditation in Ukraine – apparently, he got to occupied Melitopol through Russia. Additionally, the ministry has repeatedly complained about him to the management of Rai1, but he has yet to face any consequences.
Who is Gian Micalessin
Information about this journalist can be found in the Ukrainian, Italian and English segments of Google. In his youth, he befriended and collaborated with Italian neo-Nazis, and later founded a press agency to cover military conflicts around the world. During the war in Syria, he took a pro-Assad position. As for Ukraine, Micalessin has been working as a Russian propagandist for a long time. This year he was even invited to a couple of round tables hosted by the Public Chamber of the Russian Federation in Moscow, namely "War Crimes of Ukrainian Nationalists: Stop Them, Tell the Truth, Deliver Justice" and "Eight Years of the Illegal Coup in Ukraine: Results and Consequences."
In addition, in 2017 he made a pseudo-documentary film in which he promoted one of the Russian myths about the Maidan Revolution in 2014. It claimed, in particular, that protesters had been shot dead by "Georgian snipers". The statements in this film were refuted by documentary evidence presented in the courts about the shootings on the Maidan, including data from the Border Guard Service of Ukraine showing that the heroes of Micalessin's film were not present in Ukraine during the Maidan events.
The assumption that Micalessin could take Russian money for his propaganda work has not been confirmed. At least, he has no such property registered to his name in Italian records. My Italian contact says that he and his wife are not wealthy and could hardly own a property registered to their relatives to conceal it. "Can we assume that he is just a 'useful idiot', as the KGB calls them in its manuals?" I ask with curiosity.
"Yeah, I think he's just an idiot," the source said.
But would it still be right to say that freelancer Gian Micalessin is just a single case, which does not reflect the overall picture? No, there are other such examples. Radio Liberty journalist Natalia Kudryk from Rome recently told NV Radio that the dominance of Russian propagandists has become prominent in the Italian media. "Italians mostly get information from television," she explains, adding that the number of citations of notorious personalities like Solovyov, Zakharov or Lavrov is simply outrageous. Italian TV people continue to present a very peculiar "balance of opinions" and assert that we should "hear the Russian point of view" – because this is pluralism, this is freedom of speech.
Kudryk explains that since the Cold War, Italy has "sat on a string" between the USSR and the West, and this tradition continues to some extent. So it turns out that the "green light" on TV for pro-Russian narratives is not out of the usual order of things. Undoubtedly, this shapes the position of ordinary Italians, who eventually begin to want this war to end on any terms – just so they don't have to see "bloody pictures" any longer.
At the same time, the position of Prime Minister Mario Draghi, who, along with a number of other ministers, is a staunch Euro-Atlanticist, remains favorable for Ukrainians. In recent weeks, however, Draghi has been under pressure from all sides, including pro-Russian political forces linked to Matteo Salvini, Giuseppe Conte and Silvio Berlusconi. With their manipulative statements, the latter are trying to gather the electorate – this may explain the Italian government's proposals for a "strange peace", which involves the withdrawal of Russian troops from Ukraine only after a series of agreements, some of which are clearly not beneficial to Ukraine.
However, due to the upcoming parliamentary elections in Italy, there is a possibility that the government's position on the war will be shaky. Therefore, Ukraine should strengthen its messages and defend its own right in the Italian information space, so that statements such as "not everything is so one-sided" and "let's listen to Russia" lose popularity among Italian journalists and editors.