What was written about the war in Russian news
We have analyzed news on Russian websites for February 24 to 27 and reviewed what the enemy was telling its population about the attack on Ukraine. To do this, we have rearranged our model of disinformation monitoring and analyzed almost 11,000 news items from Russian state media and manipulative websites that purposefully spread Russian disinformation.
In the first four days, the Russian propaganda machine tried to provide dosed information about the hostilities and their consequences for Russia. About 30-35% of news publications of the state Russian media and Russian garbage "news" media were devoted to the topic of the invasion of Ukraine. The majority of these materials were reprints of Vladimir Putin's theses on "historical injustice," "demilitarization," "denazification," and so on.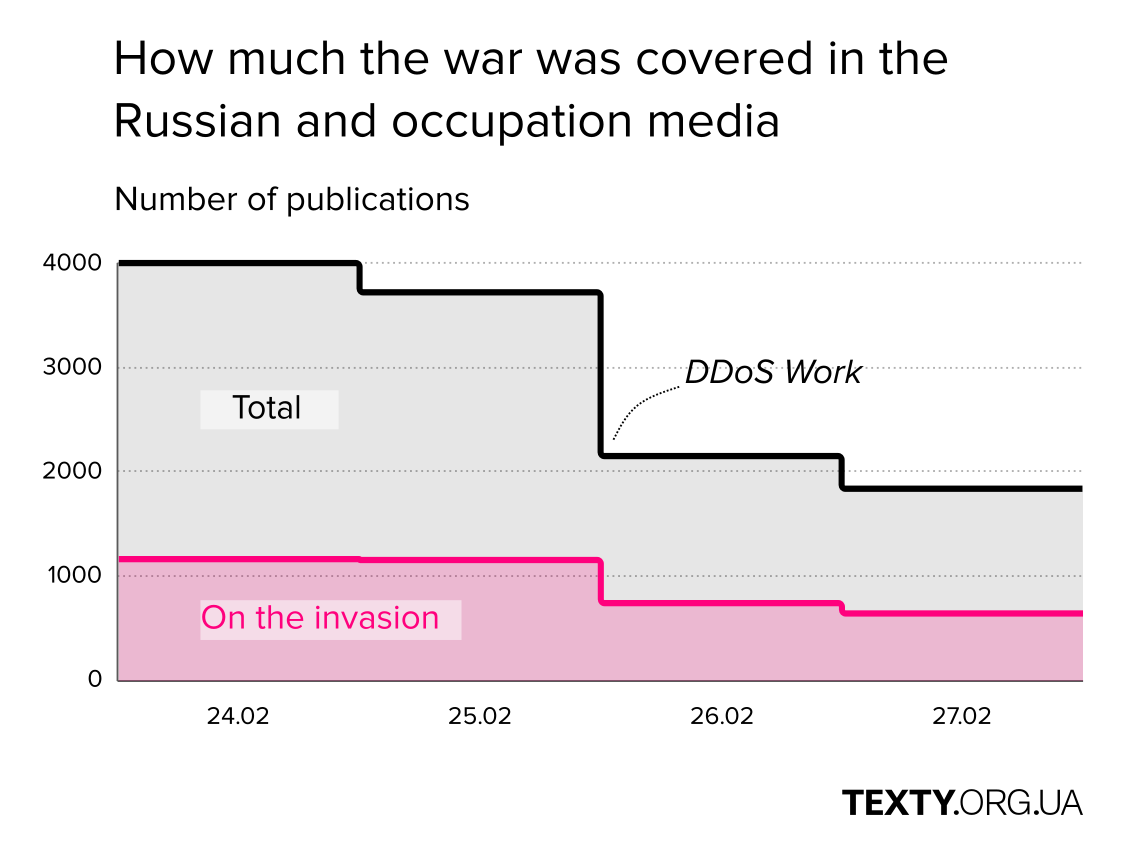 Russian information troops have also been actively involved in spreading disinformation reports about the losses of the Armed Forces of Ukraine and the capture of our soldiers. There were fakes about shelling and aggression against the civilian population by Ukraine.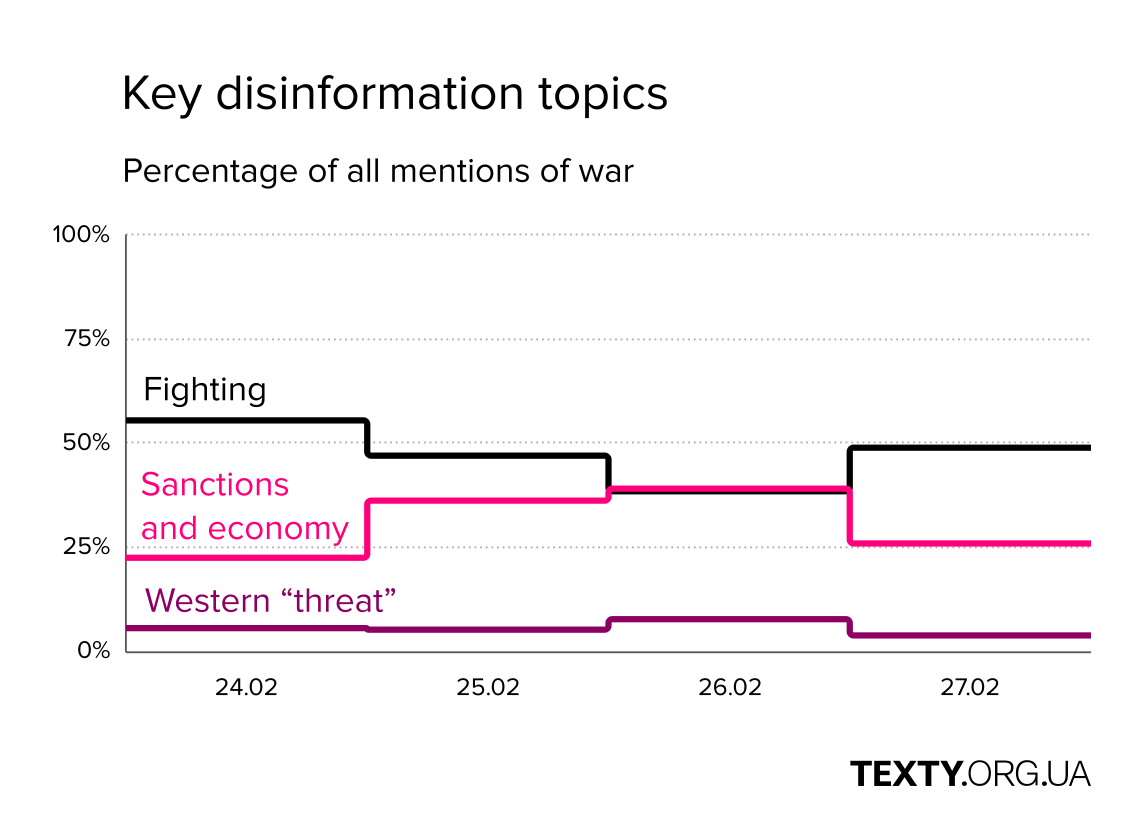 The propagandists also had to respond to the strong sanctions of the West against Russia. Publications on sanctions indicate that symbolic gestures annoyed the enemy more than real economic blows. Propagandists paid a lot of attention to the cancellation of sporting events and the restriction of flights. They even dedicated several dozen materials to the ban on participation in Eurovision, calling the contest "politicized". There was also speculation about the role of Roscosmos and Russia's indispensability for the International Space Station.
Meanwhile, there was little talk of tough sanctions on the Russian financial sector and their future impact on the population of the aggressor country. Instead of preparing their people for the severe economic crisis, Russian media wrote about how difficult it will be for Western countries to cooperate without the Russian space agency and Gazprom.
A smaller number of publications were devoted to the talks with Ukraine and the West than to fakes about the aggressor's progress and readiness for sanctions. Talks with EU and US leaders were presented as fruitless and the West's stance as hostile. The illusion of Russia's desire for peace was supported by materials about Putin's talks with leaders of China and loyal countries in the post-Soviet space. A significant part of the materials about the talks was filled with disinformation about Ukraine's refusal to make diplomatic attempts.
At the beginning of the invasion (February 24), we saw little material about Donbas. We have recorded only a few mentions of the decision to formally annex the Donetsk and Luhansk regions of Ukraine. There was either no coverage about the ordinary citizens who were ordered to evacuate and were named refugees from the so-called "DPR" or propaganda materials about "humanitarian efforts" were published.
Similarly, Crimea has not been widely covered in hostile publications. Most of the reports concerned attempts to restore the operation of the North Crimean Canal.