IT hub Ukraine. Our companies sell sophisticated products but they don't attract local investment
By the late 1990s, professors and teachers of Ukrainian polytechnics had literally nothing left but their knowledge to pass on to students.
Salaries were low, the material base was dilapidated and outdated, and the prospects were hazy. No one could even dream of a modern, powerful IT industry.
How it all started
At that time, there were popular technology competitions similar to the ones that are now called with the buzzword "hackathon". Ukrainian scientists, when they had free time, liked to take part in the competitions.
Thus, Associate Professor of the department of Electronic Computing Machines (i.e. computers) of the Institute of Computer Technology of Lviv Polytechnic Victor Kremin once decided to compete with geeks from around the world. He created the best device on a Cypress Semiconductor processor made by a California corporation, one of the world's largest suppliers of microcontrollers and memory devices.
His knowledge was enough to be head and shoulders above other competitors. The Americans quickly noticed the man and got him into their business. At the start, there was a small apartment office where Kremin and several of his students worked, and now it is a large Lviv R&D division of an international corporation, where 170 engineers work, developing software for Tesla and USB ports for Apple.
This is not the only story of a teacher becoming a successful IT businessman. Taras Kitsmey, founder of SoftServe, the largest Ukrainian outsourcing company that doesn't belong to forign investors, also taught at the department of Electronic Computing Machines in Lviv in the 1990s. Currently, his outsourcing company with development offices in Ukraine and Poland employs more than eight thousand specialists.
Softserve's managers expect the company's revenue to reach $ 1 billion within a few years. That's about as much as giants such as Ukrnafta (Ukrainian Oil) or the agrarian Nibulon corporation earn per year.
The turnover of the entire Ukrainian IT outsourcing market in 2020 amounted to $5 billion. And according to the head of EPAM Ukraine Yuriy Antonyuk, this year, despite the coronavirus pandemic, the figure will increase by another 20 to 25%, up to $6 billion.
What actually helped Ukrainians to build a multibillion-dollar industry from scratch? Here are five main reasons given by people in the industry:
Good knowledge base
According to Vitaliy Karmazinsky, Managing Director of Luxoft Ukraine, this was facilitated by a good mathematical and, in general, technical knowledge base in universities.
"Ukrainian technical specialists have realized that they can write programs for customers from Europe and the United States. This allowed them to implement their engineering knowledge in interesting projects and to earn well", he says.
The help of the disaspora
According to GlobalLogic, specialists who lived abroad found clients and handed over projects to Ukrainian colleagues. The projects were successful and the customers were satisfied.
"That's how most of the outsourcing companies that are now market players started", GlobalLogic explains.
Development of communication technologies
"Probably the most important thing was the emergence of affordable communication technologies that have made remote work possible. After all, programmers themselves existed before, but they could only work near home", adds CEO of Nix Solutions Victor Shalnev.
Geographical location of Ukraine
Ukraine is located in the geographical center of Europe, and therefore the cultural features of Ukrainian developers are close to European customers and clients from the United States.
Relatively low cost of doing business
This is obvious when compared to the United States or Western Europe.
All this combined has helped Ukraine to become a real IT hub during the 30 years of the country's independence.
Who are Ukrainian IT people?
According to Antonyuk, 200 to 220 thousand IT specialists currently work in Ukraine. And their number is constantly increasing, because demand is growing.
Overseas orders for the development and support of IT products have created a kind of ecosystem of employers and their employees.
The cost of Ukrainian IT services is formed not by the domestic market, but by the world market. Therefore, the earnings of specialists are higher than in other sectors of the Ukrainian economy. A novice developer, according to the Dou.ua service, can claim $800 a month, and an experienced systems engineer earns up to $ 5,000 or more.
You don't have to be a systems engineer or data analyst to work in IT. A layer of various managers who manage the product and people has formed around the IT community. One can be a specialist in personnel, time management, task management. Large companies even have a position as a happiness manager. That is, a person who is "responsible for happiness." They make sure that employees like it in the office and can work comfortably.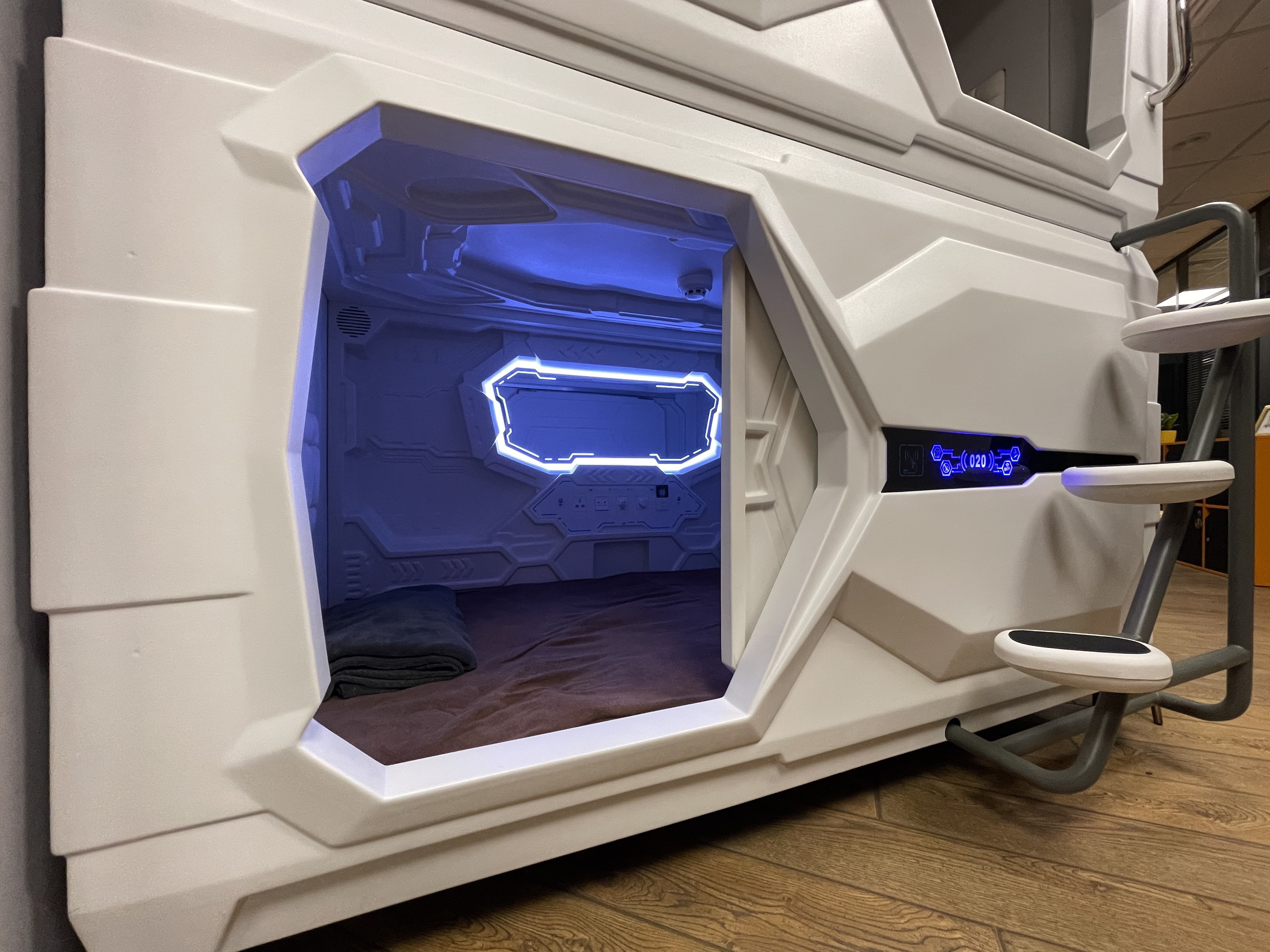 This idea (creating an atmosphere of happiness) was adopted by office centers and coworking spaces. After all, they are also interested in quality tenants. In the photo above you can see something looking like a space capsule. In fact, this is a special workplace in one of Kyiv's offices, where you can separate yourself from the rest of the world, get inside with a laptop and work quietly. Or, well, sleep :)
If you do not want to sit in a capsule, you can admire an amazing view from the window in a new spacious office. It is also one of the charms offered by landlords for IT people.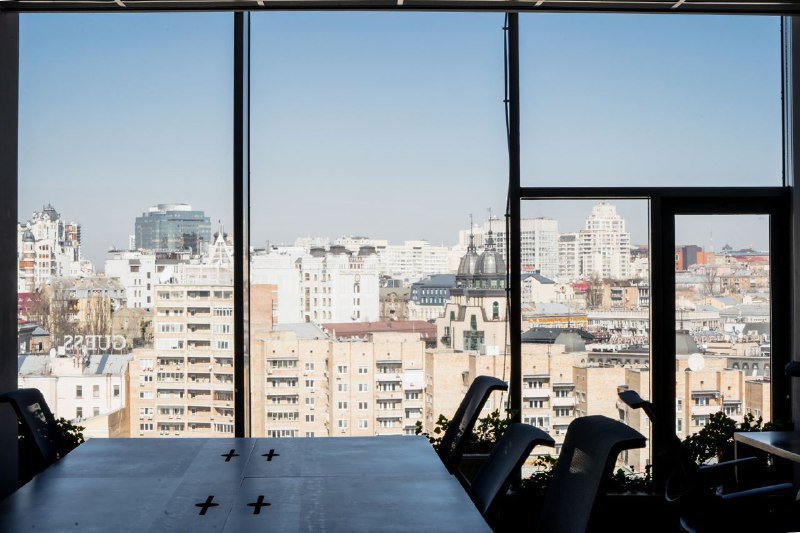 If you want to visit a bar right at work, you're welcome!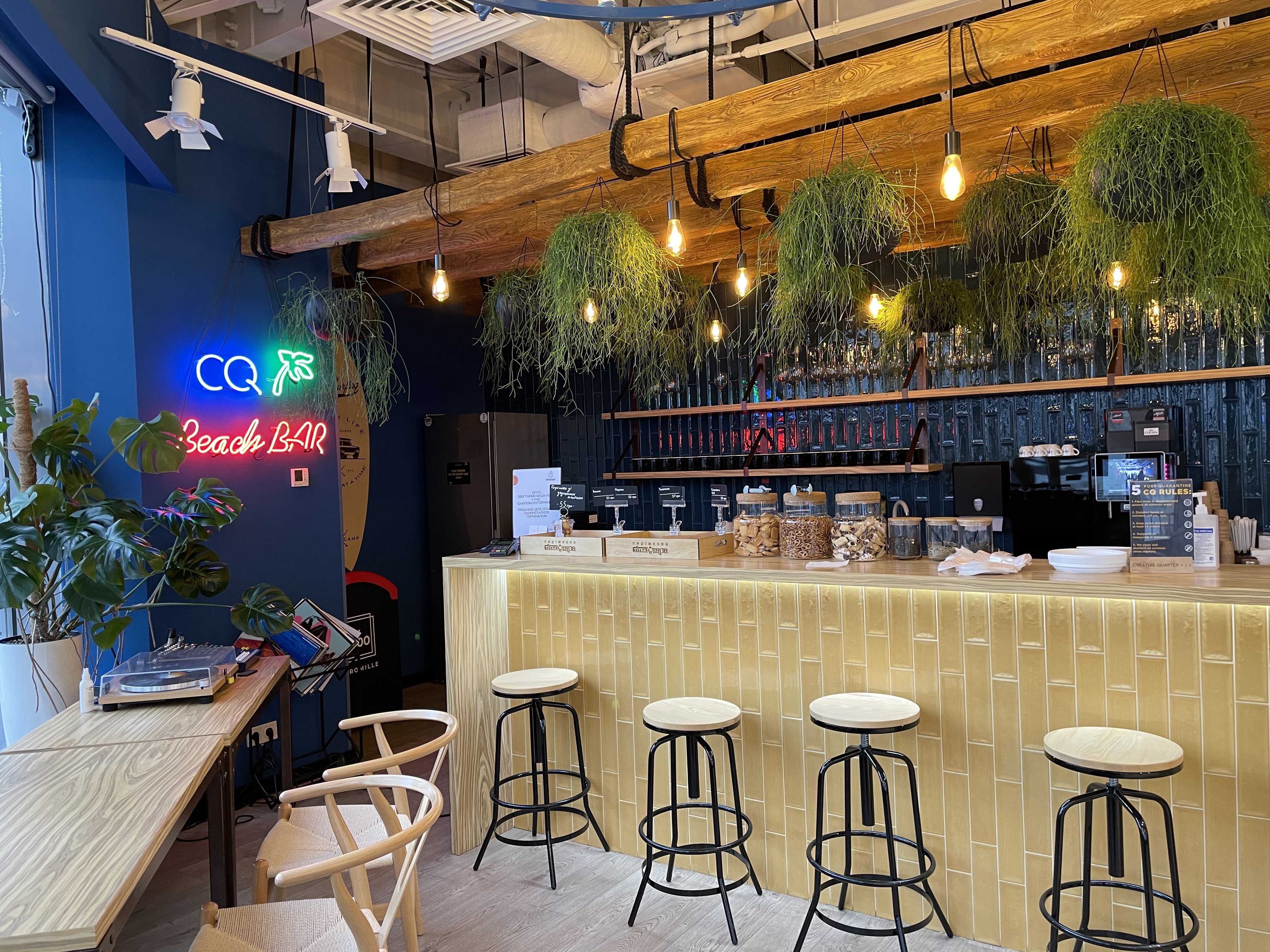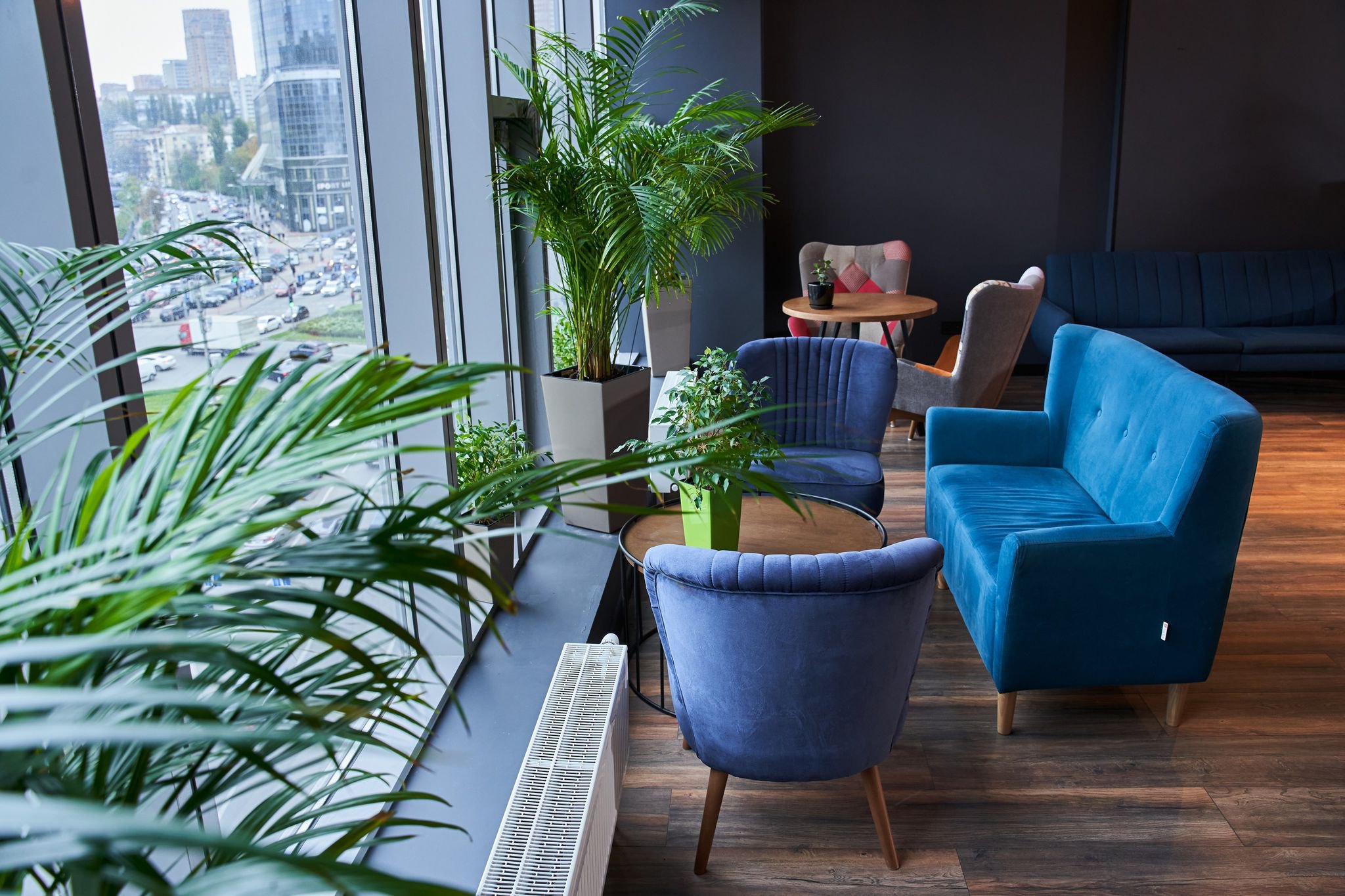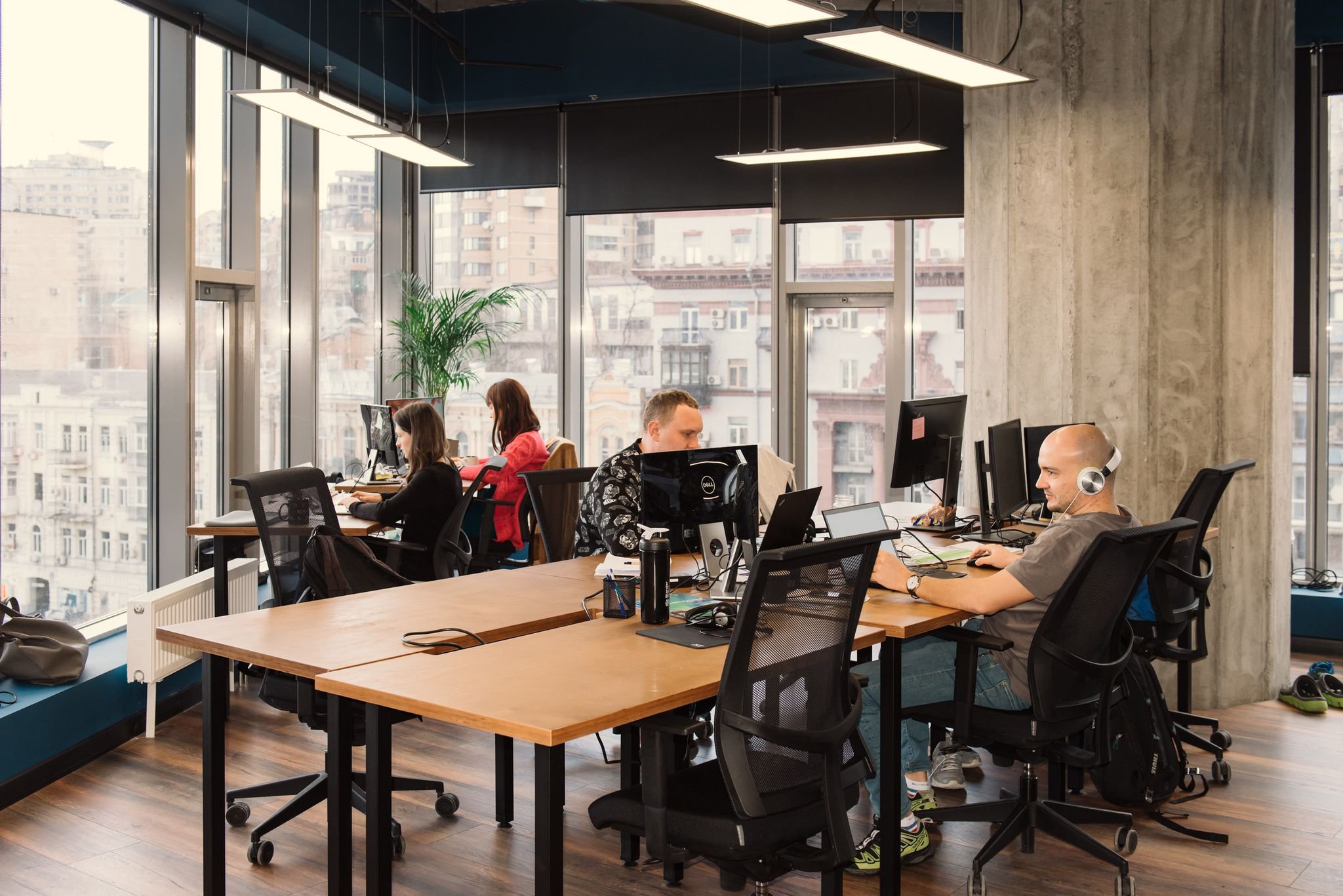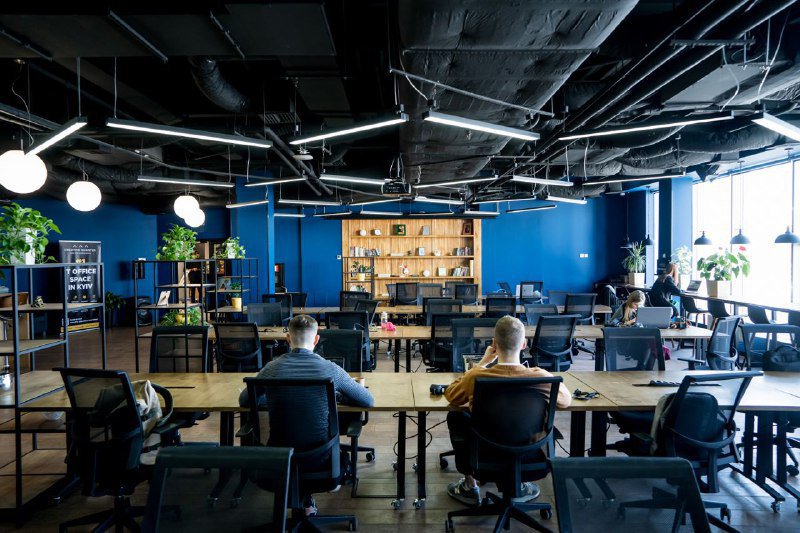 Unfortunately, due to lockdowns many offices are now deserted. But you can imagine what will happen here when the coronavirus crisis is over.
Some employers are so obsessed with creating comfortable working conditions for their subordinates that in addition to health insurance, sports, various courses, they offer free food with the possibility of forming an individual menu, as well as personal protection services if necessary.
And one must say that there is something to fight for.
10 thousand vacancies in a month
У березні 2021-го попит на ІТ-фахівців побив ще один рекорд — на профільному сайті jobs.dou.ua вперше опублікували майже 10 тисяч вакансій за місяць! І це далеко не єдине джерело інформації про робочі місця у цій сфері.
According to GlobalLogic, in general in Ukraine for the last five years the number of open positions for technical specialists has been growing by an average of almost 30% per year, and the number of engineers by 18%.
That is, more engineers are needed than are on the market.
In March 2021, the demand for IT professionals broke another record. Profile site jobs.dou.ua for the first time published almost 10 thousand vacancies in just one month! And this is not the only source of information about jobs in this area.
Ukrainian developers and their skills are highly valued in the world.
Why do foreign clients often prefer Ukrainians for IT services? Here's what experts say:

Working by result not 9 to 6
Як кажуть у Luxoft Ukraine, наші інженери постійно орієнтуються на результат. Складну задачу розробник з України сприймає як професійний виклик і не шкодує сил, поки не досягне успіху. В багатьох інших країнах зазвичай обмежуються роботою з 9:00 до 18:00.
According to Luxoft Ukraine, local engineers are constantly focused on the result. A developer from Ukraine perceives a difficult task as a professional challenge and spares no effort until he or she succeeds. In many other countries, work is usually limited to 9 am to 6 pm.
Cheaper service
Although the salaries of Ukrainian IT specialists are constantly growing, working with a Ukrainian developer will be much cheaper for a client than, for example, working with an American or European one.
High level of technical capabilities
Ukrainian specialists are ready to work in high-tech areas. For example, 90% of GlobalLogic projects are tasks that require strong technical training. Not every country has a sufficient level of knowledge in this field.
Critical thinking and innovations
According to Viktor Shalnev, in addition to Ukrainians, these features are noted in Poles and Belarusians.
"But the culture of India suggests that one should do the least possible amount of work, only what one is told, and no more", he explains his opinion. Ukrainian developers take the initiative much more often.
Urgent need to invest in education
Despite the rapid growth of the IT market, the managers of outsourcing companies now face a very serious problem, a lack of staff.
"For the past five years, about 16,000 IT bachelors of technical specialties have graduated from Ukrainian higher education institutions annually. At the same time, more than 40,000 new vacancies appear on the market and there will be even more", says Vitaliy Karmazinsky (Luxoft Ukraine).
Victor Shalnev (NIX Solutions) adds that the labor market is overheated, and therefore wages are rising rapidly.
However, there is a limit to this growth.
"No one will pay as much for outsourcing as they do for insourcing," he says. That is, if the cost of IT development within a foreign company becomes cheaper than ordering it abroad, no one will overpay.
"And no one will buy more expensively in Ukraine than in, say, Poland, the Czech Republic, or Bulgaria, and the salaries of our programmers are already close to the Central European ones", says Victor Shalnev.
Companies are still trying to overcome this problem on their own by trying to raise the level of education in universities.
"We cooperate with 19 Ukrainian universities: together we update curricula, open training laboratories, support university educational events and initiatives, and also conduct in-service training programs for teachers", said people from GlobalLogic.
But Shalnev says that miracles should not be expected. Our educational institutions will not start producing many more software developers than in previous years.
Here it is necessary to solve the problem in a systematic way. Namely:
The state, on a par with business, should invest in the modernization of universities and their curricula. And this investment will quickly return in the form of new jobs.
According to Viktor Shalnev, with a favorable human resources situation, the level of industry growth could reach 50-60%. That is, it will grow twice as fast as it does now. Consequently, the industry will receive several additional billions in the first years. For the state, this means more jobs, more taxes, a higher domestic consumption of goods and services.
What we can be proud of by now
If Ukrainian developers have such cababilities, they definitely develop something very interesting and useful for the world, don't they. So it really is. However, our IT professionals are not used to bragging about their achievements. So we asked them and we're sharing.
So, here are three cases that our IT industry can be proud of:
MBUX system for Mercedes-Benz
Anyone who is interested in the automotive sphere must have seen the new Mercedes-Benz S-Class, which premiered six months ago: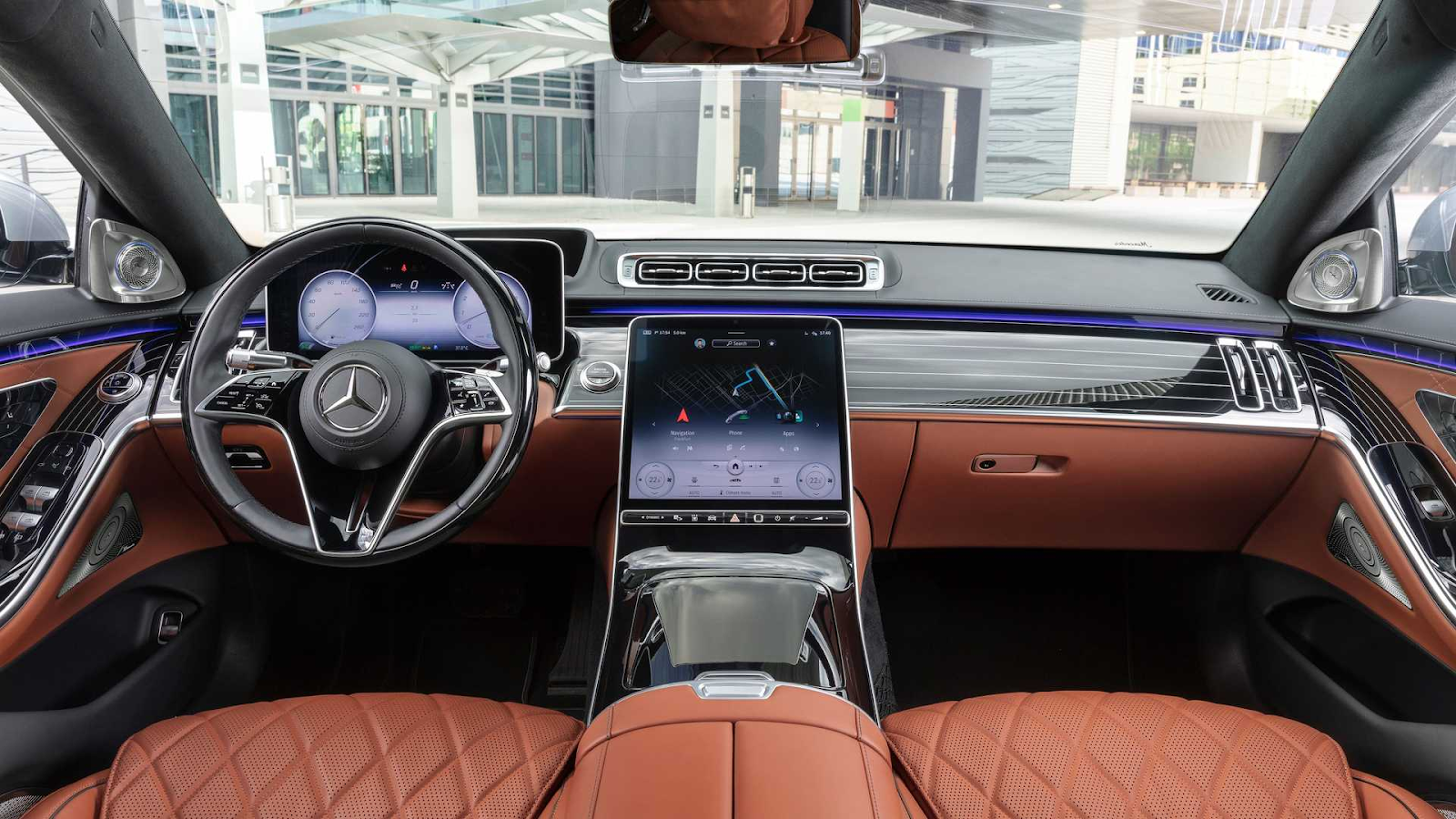 Так-от, новітню інформаційно-розважальну систему для цього автомобіля допомагали розробляти українські інженери Luxoft.
So, the brand-new information and entertainment system for this car was developed by Ukrainian Luxoft engineers.
A system called MBUX is needed to identify the driver, control all car systems via a 12.8-inch display, voice, or gestures.
With this design, one can also make calls, hold conferences, surf the Internet, control lighting, air conditioning, seats, share content with other passengers, and even connect to the systems of your smart home. To do this, in the car, in addition to the main display, additional five displays are installed. This turns the car into a real gadget, the "brain" of which was developed by Ukrainians, too.
Ukrainian solutions for world music
Over 70% of contemporary music in the world is being created with the help of solutions provided by Kyiv engineers of GlobalLogic.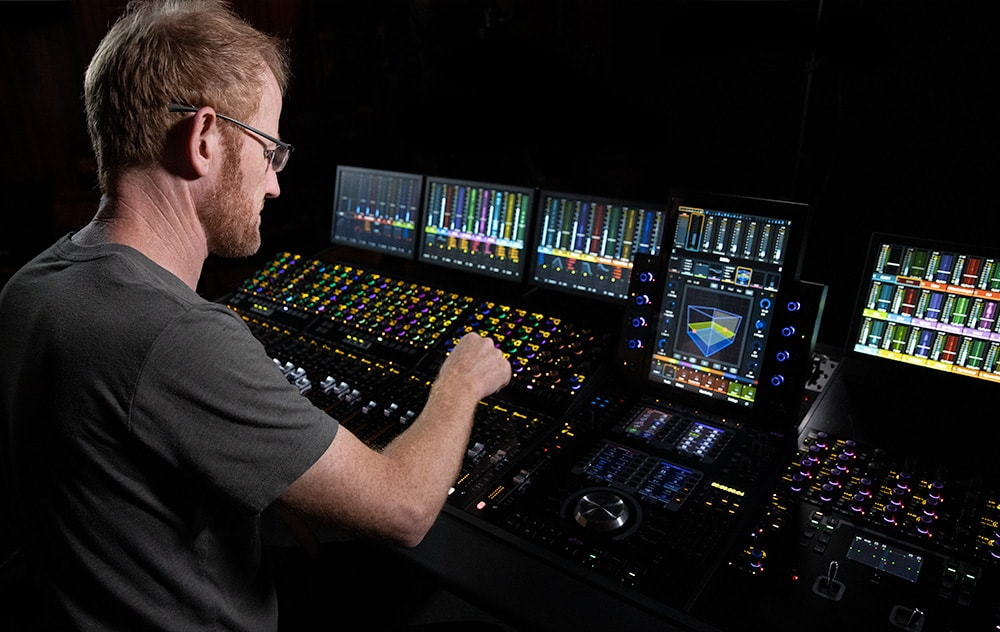 Their client is the American company Avid, a world leader in the production of solutions for the music, television, and film industries. It manufactures mixing consoles, solutions for recording, storing, editing video, systems for film and television.
Ukrainians and Americans have been cooperating for over ten years. The Kyiv office has a whole laboratory for creating music solutions. Ukrainian software is used by sound producers who work with Lady Gaga, Foo Fighters, Radiohead.
Our engineers also helped the musicians work together remotely during the quarantines. Technicians have written a program that allows one to simultaneously record groups of artists distributed across different studios, with minimal delay.
Brains for smart doorbells
In the United States, it is customary to deliver parcels at the door and leave them there. Nobody hands them over. Therefore, a large number of crimes are due to the fact that bad people just walk around the area and collect these parcels.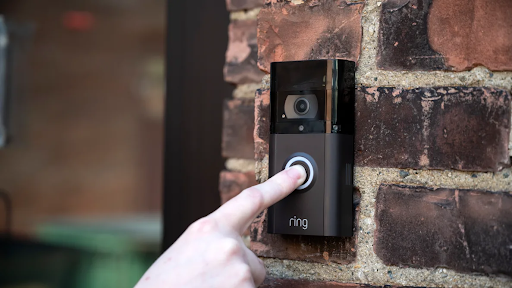 It would seem that what technology can save in this situation.
But Ukrainian developers have found themselves at the height here as well. They developed "brains" for smart doorbells at the entrance to houses. If the doorbell camera has detected an offender you can share this video among your neighbors to warn them. Most often, thieves go from one house to another. And if the neighbors managed to see the warning video, they will be vigilant.
Doorbells that can warn of danger near the house are issued by the American company Ring. A few years ago, the online shopping giant Amazon bought it for an incredible sum of one billion dollars. And this story would not have happened at all if were not for Ukrainian developers…
Річ у тім, що засновник Ring — мешканець Санта-Моніки Джеймі Сімінофф — спочатку хотів сформувати команду розробки розумних дзвінків у себе в Каліфорнії. Але йому не вдалося зібрати там команду, яка б розумілася на комп'ютерному зорі та до того ж не коштувала б мільйони доларів.
The fact is that the founder of the Ring, Santa Monica resident named Jamie Siminoff, initially wanted to form a team to develop smart doorbells in California. But he failed to get together a team that would understand the computer sight and would not cost millions of dollars.
And Kyiv the situation again. Five years ago, it was planned that only 12 to 15 people would work here. But very soon the foreigners realized that they were very lucky with the location and talents. Now the team of the Ukrainian R&D center Squad, which works on the Ring, has more than a thousand engineers.
What perspectives are there?
Back in 2018, The Economist published an article titled "Why startups are leaving Silicon Valley". This trend is still relevant today.
It has become very expensive for IT businesspeople to live on the shores of the Gulf around San Francisco. Real estate prices have rocketed. And the quality of life, on the contrary, has decreased. This area has become more dangerous, as with the influx of money and innovation not very polite people, petty robbers, also came. Many homeless people appeared on the streets of the city, who could no longer rent housing because prices rose due to high salaries of employers at technology giant firms.
That's why alternative IT hubs, such as Austin in Texas or Raleigh in North Carolinay, have begun to appear in the United States.
Can Kyiv ride the horse and also become one of the world's IT meccas?
This question is answered by Volodymyr Timashov from DataArt.
He believes that Ukrainian capital city can become one of them, but "it takes a lot of work."
"Kyiv or any other city in Ukraine, in order to become a center of the IT industry, must first become comfortable for life: modern and fast public transport, convenient street space, proper conditions for cyclists and pedestrians, multilingual environment," he says.
And he assumes that now, in times when remote work becomes more and more usual, even smaller towns and villages have a great opportunity to attract a share of IT professionals from Kyiv.
"Exactly by creating comfortable living and working conditions", says the specialist.
So let's see if in the future the cool city of Ternopil or the cozy Ivano-Frankivsk will be known in the IT world as well as San Francisco is now.
Search for investment abroad
Although Ukraine is now seen in the world primarily as a hub for development and remote support, we are already beginning to have our own well-known companies that create their own products.
"There are already many successful product startups in Ukraine. These are, for example, Reface (changes faces in videos in real time), Preply (a platform for online education), Ajax Systems (security systems)", says Vitaly Karmazinsky.
But, unfortunately, even Ukrainian product companies prefer foreign offices to attract investment.
"Such companies require massive investment and are associated with high risk, they do not return. Therefore, they appear mainly where there is a lot of money and stability to keep them", explains Victor Shalnev.
How can one turn this the other way around, so that foreign startups would be opening their own headquarters in Ukraine?
According to Karmazinsky, the investment climate needs to be improved.
"Bt this, we primarily mean a reform of the judiciary and law enforcement systems, transparent ownership structure, copyright protection. At the same time, reforms must be balanced and gradual", he stressed.
And then we will have a chance to become not only an IT hub with affordable quality programmers, but also the center of innovative products in Eastern Europe.